Five Wholesome Food Swaps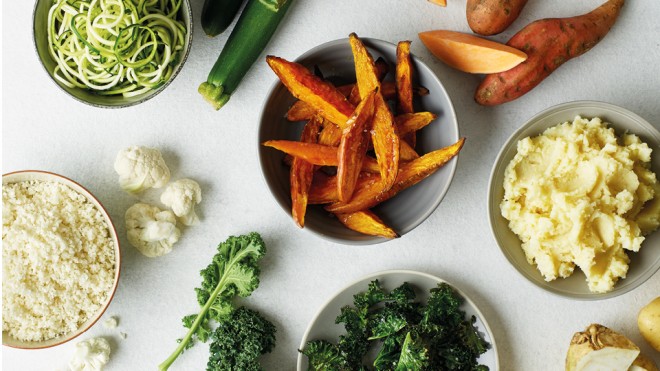 4 servings
5-40 Minutes to prepare
Ingredients
Cauliflower
Courgette
Sweet Potato
Kale
Celeriac
Instructions
If you want a healthier option with all the warmth and satisfaction of your favourite comfort foods, why not try these?
1. Cauliflower Rice Low in calories, low in fat and full of beneficial vitamins we just love this tasty alternative to traditional rice – and it tastes great too. Chop the cauliflower into florets then blitz in a processor until it resembles rice. Serve raw, or for a fluffier texture we suggest you lightly steam it for just a couple of minutes. We'd recommend one cauliflower between two.
2. Courgette Spaghetti Simply shred with a peeler or use a spiralizer to create what we like to call 'courgetti'. Quick to cook and with fewer calories than pasta, this wholesome alternative will taste great with any sauce. We suggest you blanch for a couple of minutes for the best results. We'd recommend a courgette each.
3. Sweet Potato Wedges High in fibre, a good source of vitamin A and with less carbohydrates and calories than a regular potato, there are plenty of health benefits to this swap. The truth is that we just love the taste! Just wash, chop, toss in little oil and pop into the oven on a baking tray for 30-40 minutes at 200C. Allow a large potato per person.
4. Kale Crisps If you're craving a delicious, crispy snack with a rich flavour, kale crisps are absolutely the swap for you. Massage in a little oil (try rapeseed) and maybe a little spice if you're feeling adventurous and pop in the oven on a low heat (about 150C) for 8-12 minutes for these moreish little bites.
5. Celeriac Mash For a lighter version of your regular mashed potato we highly recommend a simple swap to this delicately flavoured alternative. Remove the peel of the celeriac and one potato, then boil and mash as you usually would.