Frozen Smoothie Bowl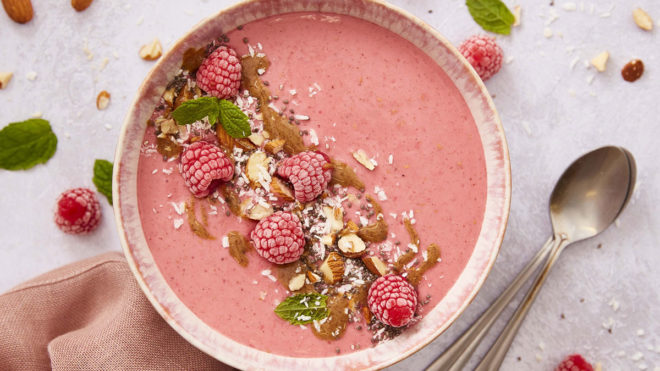 2 servings
20 minutes plus overnight to freeze to prepare
Ingredients
2 frozen bananas
1 punnet frozen raspberries
2tsp almond butter
1tbsp maple syrup
200ml chilled coconut milk
To Garnish
2tsp almond butter
Handful of crushed almonds
2tsp desiccated coconut
2tbsp maple syrup
Handful raspberries
1 sprig fresh mint
Instructions
Enjoy this different take on a smoothie, the frozen fruit gives it a thicker texture than an ordinary smoothie.
Freeze raspberries and bananas overnight.
Pop a bowl into the freezer to chill.
Remove the raspberries and bananas from freezer. Peel the bananas and put them both into a blender, keeping a small handful of raspberries back for garnish.
Add the remaining ingredients and blend until smooth.
Pop into your chilled bowl then sprinkle the top of your smoothie bowl with the garnish ingredients.