Chilled Raspberry Soufflé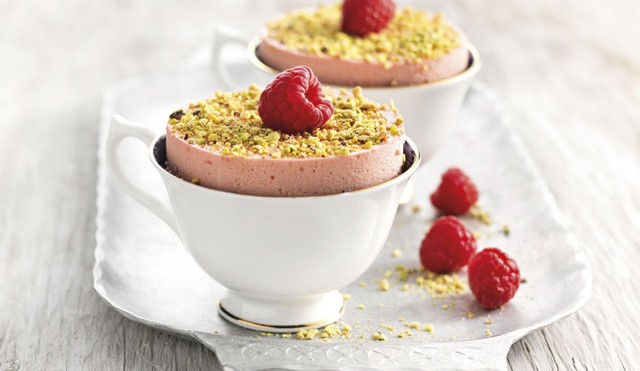 6 servings
60 minutes to prepare
Ingredients
300g raspberries
Juice of 2 lemons
4 medium eggs, separated
150g caster sugar
5 tsp powdered gelatine (or vegetarian gel)
100ml Chambord (optional)
50ml water
250ml whipping cream
100g pistachio nuts
YOU WILL ALSO NEED
6 teacups or ramekins
Greaseproof paper
Sticky tape
Instructions
HOW TO DO IT
Cut 6 strips of greaseproof paper to 10cm in height, and long enough to wrap around one of the teacups/r amekins. Fold each piece in half lengthwise, place around the top and secure with tape. Pop onto a tray and leave in the fridge.
Put the raspberries, keeping 6 back for decoration, into a blender with the lemon juice and blend until smooth. Pass the raspberry sauce through a sieve to remove any seeds.
In a large bowl, whisk the egg yolks and 100g of caster sugar until doubled in volume and pale in colour.
Dissolve the powdered gelatine in the Chambord and 50ml water in a heatproof bowl. Place the bowl over a small pan of barely simmering water and stir until the gelatine has melted. Remove from the heat and whisk into the egg yolk mixture, then fold in the raspberry sauce.
Whip the cream until light and fluffy. Fold into the raspberry mixture.
In a clean bowl, whisk the egg whites until stiff. Continue whisking whilst adding the remaining caster sugar a tablespoon at a time.
Gently fold the egg whites into the raspberry mixture and pour into the prepared teacups/ramekins. Chill for 6 hours or ideally overnight.
When you're ready to serve, remove the paper, finely crush the pistachio nuts and scatter over each soufflé. Finish with a raspberry on top and serve.