Summer Pudding with Clotted Cream Vanilla Ice Cream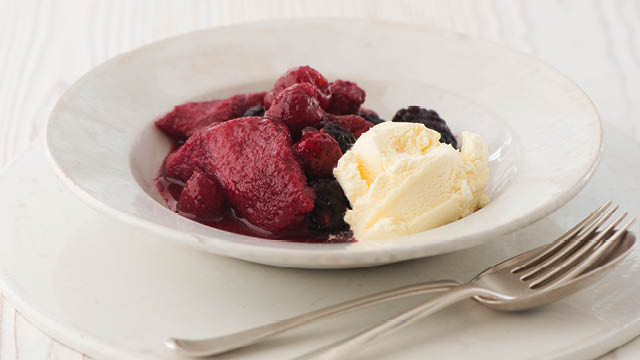 6 servings
30 mins to prepare
Ingredients
800g fresh strawberries, cut into 1/4's
300g fresh raspberries
300g blackberries
500g blackcurrants and redcurrants
200g caster sugar
Juice of 1/2 lemon
150ml white wine
150ml water
12 slices thick cut bread
Snugburys clotted cream vanilla ice cream to serve
Instructions
Take a 1ltr pudding basin, line with cling film and leave a good overhang to wrap over the pudding at the end.
Place half the fruit into a saucepan along with the caster sugar, lemon juice, wine and water. Simmer for 5 minutes then pass through a sieve back into the pan. Bring to the boil and cook for 10-15 minutes until it reduces by ½. Pour ¾ of the juice into a small bowl. Add the last of the fruit into the pan, gently mix and leave to one side.
Cut a disk of bread to fit the base of the pudding bowl, pop into the bowl of fruit juice for 2 minutes, then place into the bottom of the pudding bowl. Cut the crusts off 10 of the remaining 11 slices of bread and then cut into two equal rectangles. Dip each rectangle into the juice and then place around the side of the pudding bowl, making sure each slice overlaps. Carefully tip the fruit into the bowl, gently pressing the fruit down.
Cut a large disk of bread to cover the pudding, then dip it in the fruit juice. Pour the last of the juice over the fruit and top with the large bread disk. Bring over the cling film, so the pudding is completely covered.
Place a saucer over the pudding and top with a weight. (2 tins tomatoes usually works well) Chill the summer pudding overnight.
To serve, unwrap the cling film, invert the pudding onto a plate and remove the pudding bowl and the cling film. Slice into wedges and serve with the ice cream.