Lemon and Blackberry Paris-Brest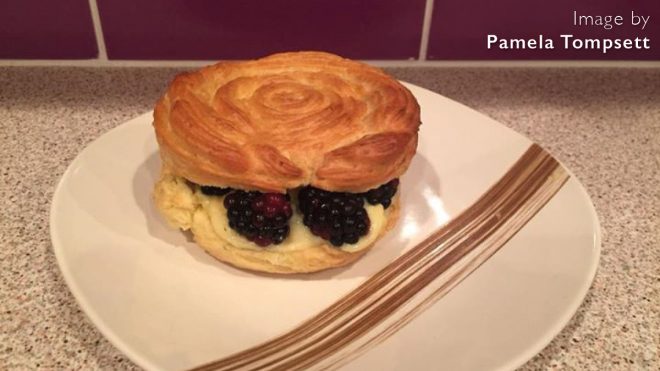 4 servings
Cooks in 20-25 minutes, 30 minutes to prepare
Ingredients
For the Choux
50g salted butter
1 lemon, zest of
100g strong, white bread fl
2 eggs
20g flaked almonds
For the crème pâtissière
150ml milk
1 lemon, zest of
1tsp vanilla extract
3 egg yolks
1tbsp cornflour
75ml milk
200g blackberries
Icing Sugar to Decorate
Instructions
Indulge a bit of homemade patisserie with this classic Paris-Brest recipe with the gorgeous flavours of lemon and blackberry.
Method
Pre-heat the oven to 200°C (fan)/425°F/gas mark 7.
Line a baking tray with baking paper. Draw 4 circles approximately 8cm in diameter on each sheet of baking paper as a guide when piping.
Place the butter, 150ml of cold water and the lemon zest into a saucepan. Heat gently to melt the butter then bring to the boil. Remove from the heat.
Add the flour and beat to combine. Return the pan to the heat and cook over a low heat for 2 minutes to dry the mix stirring continually. Tip the mix into a large bowl and set to one side to cool for 5 minutes.
Add the eggs slowly, beating well after each addition. Using a handheld electric mixer makes this stage easy, alternatively use a wooden spoon.
Spoon the mix into a piping bag fitted with a star nozzle. Pipe 4 rings of choux onto the lined baking trays using the circles as a guide.
Scatter over the flaked almonds and bake in a pre-heated oven for 20-25 minutes until risen and golden brown.
Remove and transfer the choux rings onto a cooling rack, prick each ring several times with a sharp knife to allow the steam to escape. Allow to cool completely.
To make the crème pâtissière…
Place the 150ml of milk and lemon zest in a small heavy based saucepan. Bring to the boil then remove from the heat.
Place the vanilla extract, egg yolks, sugar and cornflour into a bowl and whisk to make a smooth paste. Slowly add the 75ml milk whisking all of the time.
Slowly pour the hot milk onto the egg yolk mix and whisk to combine. Pour the mix back into the pan and bring to the boil. Boil for 2 minutes stirring all of the time.
Transfer to a bowl and cover the surface with cling film to prevent a skin forming. Allow to cool before chilling in the fridge for 1 hour. 
To assemble…
Carefully cut each choux ring in half horizontally using a serrated knife. Place the chilled crème pâtissière into a piping bag fitted with a small star nozzle. Pipe a ring of crème pâtissière onto the base of each choux ring. Arrange the blackberries on top of the crème pâtissière and top with the choux lid.
To decorate, sprinkle with icing sugar and serve.