Gluten-Free Zesty Orange Polenta Cake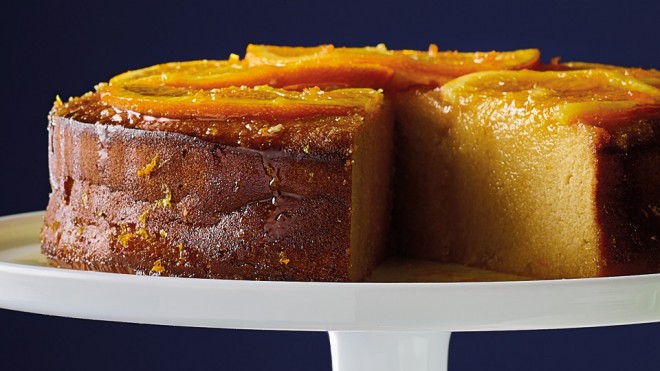 8 servings
1 hour 15 minutes to prepare
Ingredients
4 Large fresh oranges
6 large free-range eggs
150g polenta
150g Ground Almonds
350g golden caster sugar
3tbp Grand Marnier, Cointreau or brandy (optional)
Instructions
With its sumptuous, orange-soaked sponge, this is a cross between a cake and a dessert. Serve warm with cream for an alternative Christmas dessert.
1 Put two of the oranges in a saucepan and cover with cold water. Bring to the boil and then simmer, covered, until very soft. This should take about 1 hour but depends on the size of the oranges, so if they still feel a little firm, leave to cook for longer. Remove from the water and leave to cool, then halve and remove the pips.
2 Preheat the oven to 180C/fan 160C/gas 4. Grease and line a 23cm spring form cake tin with greaseproof paper. Place the orange halves with the skin left on in a food processor and blitz to a puree. Add the eggs, polenta, almonds and 250g of the sugar then pulse until you have a thick batter. Pour this into the prepared tin and bake for 1 hour until the cake is golden and risen and a skewer comes out clean when inserted into the middle. Leave to cool slightly in the tin.
3 Place the remaining caster sugar in a saucepan with 100ml of cold water and heat to dissolve. Bring to the boil and bubble for 10 minutes, then add the liqueur (optional), and the juice and grated zest from one of the oranges.
4 Thinly slice the remaining orange (including the skin) and add to the syrup. Simmer for a further 5 minutes.
5 Turn out the cake onto a serving plate. Skewer holes all over the cake and gently spoon over most of the syrup, leaving to soak. Arrange the sticky orange slices over the top of the cake to decorate.
Serve cut into wedges with extra syrup drizzled over the top. Delicious with thick cream or creme fraiche, or served warm with vanilla ice cream.