The Boho Baker's Chocolate Brownies with Orange Caramel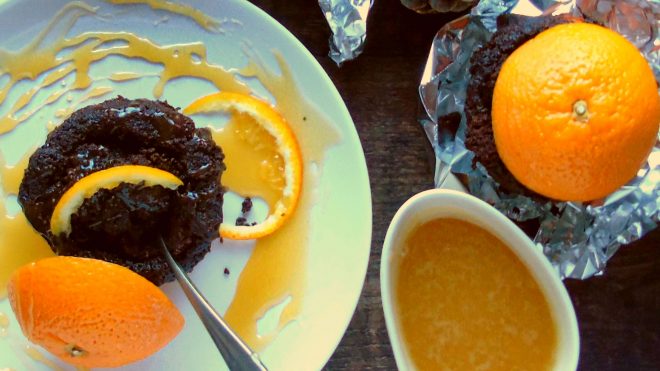 8 servings
35 minutes baking time, 10 minutes to prepare
Ingredients
For the Brownies
100g butter
200g chopped dark chocolate
250g caster sugar
100g plain flour
30g cocoa powder
4 eggs
1tsp baking powder
For the Caramel
120ml orange juice
300g granulated sugar
120g double cream
30g butter
2tbsp liquid glucose
2tsp vanilla extract
1tsp grated orange zest
Pinch of salt
Instructions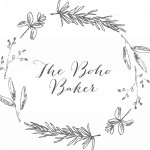 The Boho Baker describes herself as "Baker. Writer. Forager. Wanderer. Organic ingredient and edible floral Enthusiast. Member of the Guild of Food Writers." Very local to our HQ in Preston, she's kindly agreed to do a series of recipes for us, celebrating the best of our local produce. Follow her on instagram @thebohobaker.
Crisp November evenings call for decadent chocolate brownies with a sticky orange caramel. Baked inside hollowed out oranges, these gooey treats can be wrapped in foil and cooked on an open fire as well as in a conventional oven. Grab your hat and mittens, and share around a bonfire on a cold winters night.
Method:
Preheat your oven to 180C/350F/Gas Mark 4. Gently slice the tops off the oranges using a serrated knife and squeeze out the juice before removing the filling. Don't worry if there is a thin layer of pith left behind, this will help keep the brownie moist whilst cooking.
Melt the chocolate either in a microwave or in a bowl over a pan of simmering water. Set aside to cool, stirring occasionally.
Whisk together the butter and sugar until pale and fluffy. Gently fold in the chocolate until well combined. Sift the flour, cocoa, and baking powder and continue to fold until you have a thick, fudgy batter.
Distribute the batter amongst the hollowed-out oranges, place on a baking tray, and bake for 35 minutes or until the brownies have started to set. If you are baking the oranges on an open fire, wrap in foil before heating. Remove from the oven, and set aside to cool whilst you prepare the caramel.
Moving on to the caramel, combine the orange juice, glucose, and sugar in a saucepan. Turn the heat up to medium and gently stir until the sugar has dissolved and the liquid starts to simmer.
As soon as the mixture starts to darken, remove from the heat, and add the butter and cream, whisking vigorously. Add the vanilla, orange zest, and pinch of salt, then stir until well combined. Drizzle over the brownies for a delicious citrus kick.
Hints/Tips/Troubleshooting:
You can make the caramel up to five days ahead. Just keep it in an airtight container in the fridge and leave it out to return to room temperature before serving.
Whilst the cooking temperature for the brownies may seem a little high, this is essential as the liquid in the orange peel prevents the brownie from cooking too quickly. Do not worry, your brownies will cook well at this temperature.