Chocolate Mini Nests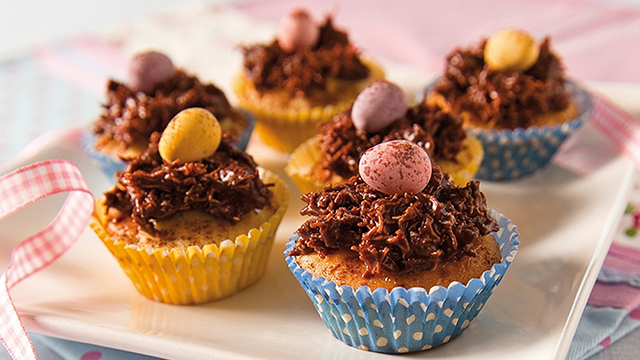 7 servings
45 minutes to prepare
Ingredients
For the cakes
75g margarine
75g caster sugar
1 egg
150g self-raising flour, sifted
Grated zest and juice of
For the nest
50g of your favourite breakfast cereal (shredded wheat, cornflake or rice crispies)
100g chocolate buttons
50g butter
1tbsp cocoa powder, plus extra for dusting
75g golden syrup
36 mini chocolate eggs
Instructions
Pre-heat the oven to 200°C / gas mark 5.
To make the cakes line a 12 hole fairy cake tray with paper cases.
In a large mixing bowl beat the sugar and margarine until light and fluffy, now add the orange zest and juice, egg, and flour and beat again until well combined.
Divide the mixture between the cases and bake in the oven for 10-15 minutes or until lightly golden brown and risen. You can check the cakes are cooked by inserting a skewer/toothpick into one of the
sponges. If it comes out clean the cake is ready and then remove the cakes from the tin and leave to cool on a wire rack.
Meanwhile to make the nest place the chocolate buttons, cocoa powder, butter and golden syrup into a bowl and microwave on high for about one minute until the chocolate has melted. Give the chocolate mixture a stir to mix everything up.
Crush the breakfast cereal with your hands over the bowl of chocolate, mix with a spoon until all the cereal is coated in the chocolate.
Divide the mixture whilst still warm on top of the little cakes, making a little hole in the middle to pop the chocolate eggs in. Chill in the fridge for 10 minutes to set.