Homemade Truffles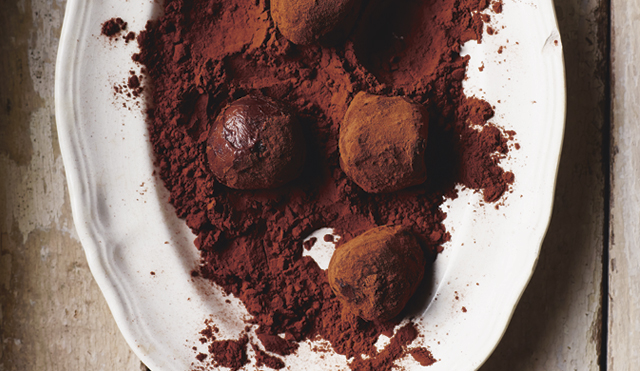 16 servings
30 minutes plus 4 hours chilling to prepare
Ingredients
200g plain chocolate 70% cocoa solids
40g butter
200ml double cream
25g caster sugar
FOR THE FLAVOURINGS
2 tbsp brandy (You can also flavour the mixture with your choice of whisky, coconut rum, coffee liqueur, zest and juice of an orange, just a pinch of sea salt or chilli oil for something a little different)
FOR THE COATING
50g cocoa powder
1 tbsp icing sugar
100g dark chocolate
100g white chocolate
Instructions
1 Break up the chocolate into small pieces and place in a mixing bowl with the butter.
2 Pour the cream and sugar into a saucepan and bring just to the boil. Pour the cream onto the chocolate and butter, add the brandy and mix until it is smooth and shiny. Place in the fridge to firm up for at least 4 hours.
3 When ready to prepare the truffles dust your hands with a little cocoa, take a teaspoon of mixture and roll into small balls the size of a walnut.
4 Coat the truffles immediately after shaping. Place the cocoa powder mixed with the icing sugar, chopped pistachio and flaked almonds onto individual plates and gently roll the truffles into the mixture until evenly coated then place on greaseproof paper in the fridge to chill and firm.
5 To coat the truffles in chocolate, line a baking tray with parchment paper. Gently melt the dark and white chocolate separately in a bain-marie. With a fork pick up one truffle at a time and hold over the bowl of melted chocolate. Spoon the chocolate over the truffle until well coated. Place the truffle on the baking parchment and place in the fridge to chill.
Store in the fridge in an airtight container for 4 days or freeze for up to one month.