Easy Chocolate Butterflies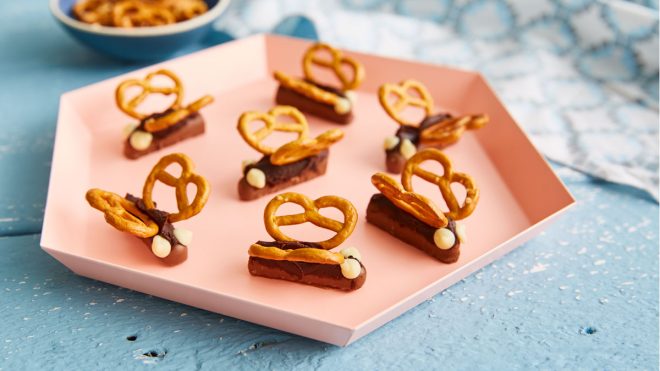 10 servings
30 minutes to prepare
Ingredients
FOR THE BUTTERCREAM
25g butter, softened
50g icing sugar
1tsp cocoa powder
FOR THE BUTTERFLIES
10 chocolate fingers
40 pretzels
40 white chocolate chips
Instructions
These chocolate butterflies are the easiest way to spend a very fun crafternoon in the kitchen with the kids!
Method
To make the buttercream, beat the butter, icing sugar and cocoa powder in a bowl until smooth.
Snap each chocolate finger in half to make 20 butterflies. Spread each chocolate finger with buttercream and use to stick on 2 pretzel wings.
Stick 2 white chocolate chip eyes on each butterfly, place on a serving platter and enjoy!
Chef's Tip
Make the prep for this recipe even easier, by using store bought buttercream.