Blackberry, Beetroot & Chocolate Cake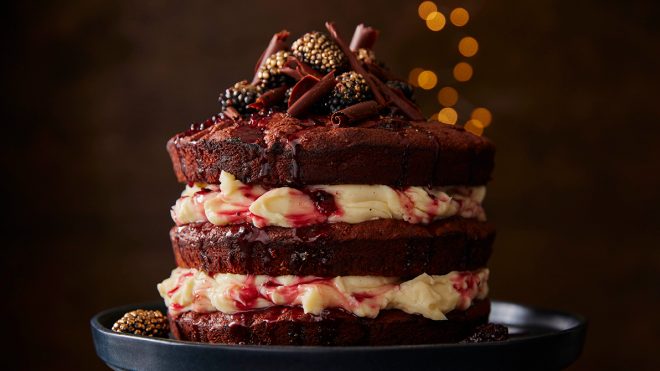 10 servings
20 mins to prepare
Ingredients
For the cake
200g grated cooked beetroot in natural juice
150g dark chocolate, melted
100g ground almonds
3 large eggs
225g self-raising flour, sifted
150g butter
300g soft brown sugar
50g cocoa powder, sifted
For the filling
200g blackberries
600g icing sugar
100ml dark rum
375g mascarpone
To decorate
Fresh blackberries
Chocolate curls
Instructions
METHOD
Preheat the oven to 180°c / 160°c fan / 350°f / gas mark 4.
Line three 7" inch cake tins with parchment paper.
Beat the sugar and butter together until light and fluffy.
Beat in the eggs.
Add the melted chocolate and mix well.
Fold in the flour and cocoa powder followed by the ground almonds and beetroot.
Divide equally between the tins and bake for 35 minutes then leave to cool.
To make a blackberry compote, place the blackberries into a pan along with 200g of icing sugar and cook gently until the berries have softened slightly, then allow to cool.
Mix the mascarpone with the remaining icing sugar and rum.
Layer the cakes together with the mascarpone icing and a good spoonful of the blackberry compote.
Finally decorate with blackberries and chocolate curls.
CHEFS TIP:
Simply make chocolate curls by melting chocolate with a little vegetable oil, allowing it to set in a slab, and then sliding the knife away from you across the surface at a 45° angle.