Roasted Golden Beetroot, Watercress & Goats Cheese Salad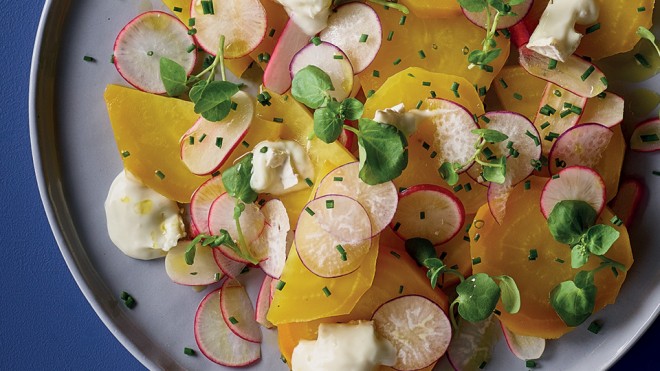 4 servings
1 hour 5 minutes to prepare
Ingredients
1kg golden beetroot
2tbsp olive oil
1 bunch radish, sliced thinly
100g watercress, washed
150g soft goats cheese, roughly chopped
25g bunch fresh chives, finely chopped
3tbsp extra virgin olive oil
1tbsp red wine vinegar
Instructions
A great way to use the golden beetroot from the heritage vegetable box, this is particularly delicious served with roast beef, veal or venison.
1 Preheat the oven to 180°C/fan 160°C/gas mark 4. Place the whole golden beetroot in a roasting tin and drizzle with the olive oil and season with sea salt and ground black pepper. Cover tightly with foil and roast for about 50 minutes until very tender when pierced with a sharp knife. Leave to cool, then peel away the skin.
2 Slice the beetroot into 5mm slices and arrange on a large serving platter with the radish, watercress and goat cheese. Sprinkle with chopped fresh chives. Mix together the extra virgin olive oil and the red wine vinegar, season to taste then drizzle over the top.