Granola Breakfast Tarts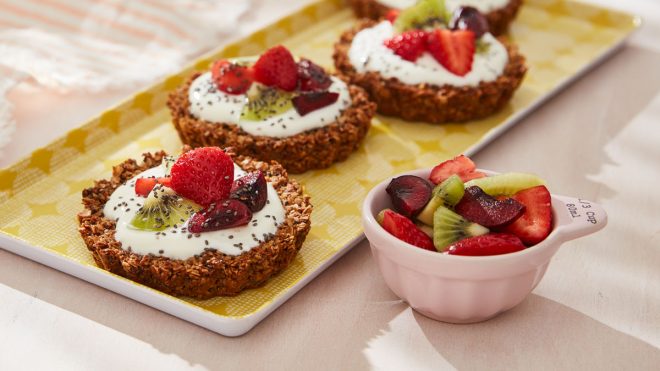 4 servings
35 minutes to prepare
Ingredients
For The Tarts
75g coconut oil
75g honey
200g oats
2tbsp chia seeds
1tsp cinnamon
To Serve
1 kiwi, sliced
4 strawberries, sliced
4 cherries, stoned and halved
1tsp chia seeds
100g yoghurt
Instructions
These granola breakfast tarts are super tasty for an indulgent start to the day that's still a little bit healthier. Why not get the children involved in making them?
Method
Pre-heat the oven to 180°C (fan)/400°F/gas mark 6.
Place the coconut oil and honey into a saucepan. Warm gently over a medium heat to melt.
Place the oats, chia seeds and cinnamon into a mixing bowl. Stir to combine.
Pour the melted mixture over the dry ingredients and mix well to coat.
Place 4 fluted 10cmin diameter onto a baking tray. Divide the mix between the tart tins and pack down using the back of a spoon.
Bake in a pre-heated oven for 20-25 minutes until golden brown.
Allow to cool completely before removing from the tins.
To serve, divide the yoghurt between the granola tart cases, decorate with the prepared fruits and finish with a scattering of chia seeds.
Chefs Tip
To make this vegan, swap the honey for maple syrup and use almond yoghurt to fill.