Traditional Lebkuchen Biscuits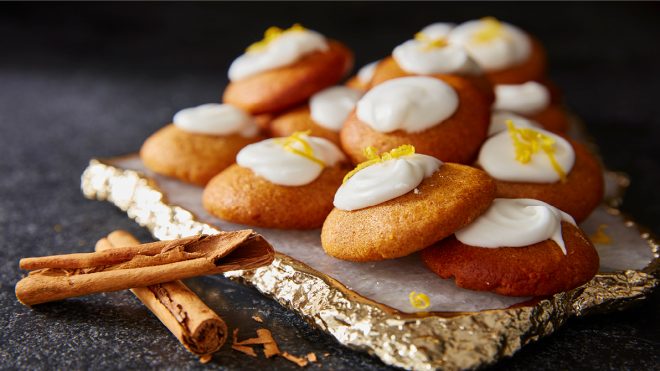 7 servings
35 minutes to prepare
Ingredients
For the biscuits:
250g plain flour
85g ground almonds
2tsp ground ginger
1tsp ground cinnamon
½tsp bicarbonate of soda
Pinch of ground clove and nutmeg
200ml clear honey
85g unsalted butter
Finely grated zest of lemon
For the icing:
100g icing sugar
1 egg white, beaten
1tbsp water
Instructions
Preheat the oven to 180°C
Sift all the dry ingredients into a large mixing bowl
Heat the honey, lemon zest and butter in a saucepan over a low heat until the butter melts, then pour in the flour and mix well until a dough is formed. Cover and leave to cool then pour the liquid into the dry ingredients and mix well.
Using your hands, roll the dough into about 30 balls, each 3cm wide then flatten each one forming a disk shape. Place the biscuits onto baking trays lined with baking parchment, leaving a little room so the biscuits can expand, and bake for about 15 minutes and cool on a wire rack.
To make the icing, mix the icing sugar, egg white and 1tbsp of water to form a smooth icing. Dip each of the biscuits into the icing and smooth off with a knife, pop back onto the wire rack until the icing has set.