Mustard Crusted Herring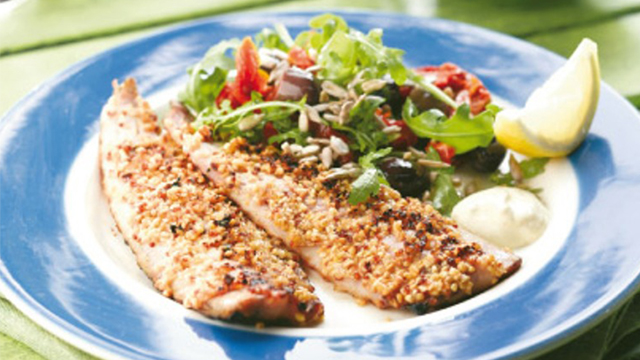 4 servings
20 mins to prepare
Ingredients
Ingredients – for two fillets
2 fillets of fish per person – either pre-packed, from the chilled cabinets or the fish counter
2 dessert spoons of Booths pinhead oatmeal
1 dessert spoon of Booths Dijon mustard
1 dessert spoon of honey
Instructions
Pre-heat the griddle pan, or barbecue (until the coals are grey and covered in ash).
Mix together the oatmeal, the mustard and the honey and spread on the non-skin side of the fish. For a more intense flavour you can prepare these the night before, and leave covered, in the fridge.
Place the fillets of fish skin side to the pan, or barbecue, so the heat causes the fish to 'seize' onto the skin, so it sticks together, and cooks evenly.
The fish will cook much more quickly than you expect; it will turn from the raw look, to a milky colour, after about 5-8 minutes, depending on the thickness of the fillet. Then you can flip the fish over onto the mustard side, just to colour, for a minute or two, until the fish is golden in colour.
Serve with Booths wild rocket, sun-dried tomatoes, black olives and sunflower seeds. To dress the fish, mix together a small tub of crème fraîche and a small teaspoon of horseradish sauce.