Top BBQ Tips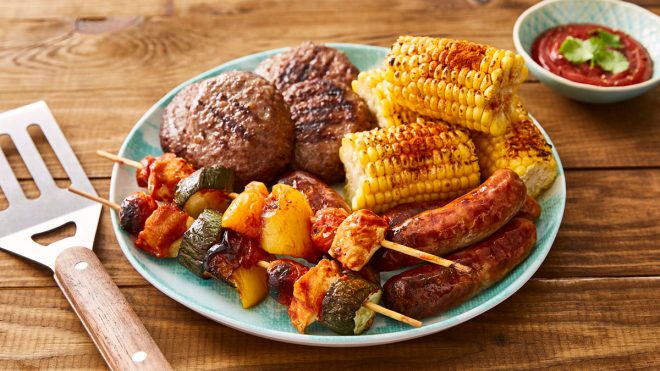 1 servings
N/A to prepare
Instructions
We've pulled together a selection of our top tips for the perfect BBQ, whether it's a full on party or a quiet one with family or friends.
It might sound like common sense (because it is!) but start the BBQ before your guests arrive, so you're not waiting around to cook. Coals should be white hot before you start cooking. Allow the flames to die down and rake the coals to ensure the BBQ is the correct temperature.
Add some rosemary sprigs to your BBQ coals, it will smell fantastic and impart a subtle flavour into your dishes.
Allow meat to come to room temperature before cooking. This helps to ensure meats are fully cooked through and not just barbequed on the outside.
Create a workstation next to your BBQ. Keep one side for raw meat and fish and the other side for cooked items. Use a separate table for salads, condiments, plates and cutlery.
Use good quality prepared products (such as Booths ready to grill range, see the menu here), for flavourful cooking and to save time. Use your prep time to make your own side dishes – add colourful alfresco elements to your sides, pomegranate seeds, fresh herbs and orange segments all bring a summery burst of flavour. Why not try our jewelled potato salad? Tap here for the recipe.
Don't forget dessert! Look for easy puddings which go on the BBQ. Once you have cooked the main event, the coals will be a perfect temperature for desserts. Keep it simple, grill fresh fruits such as bananas, pineapple or peaches in foil parcels, make up some s'mores or simply toast marshmallows. Tap here to take a look at our recipe for BBQ peach crumble.
Our beer aisle is well worth a visit to pair artisan ales with your BBQ. Look for fresh and light hoppy brews with zesty flavours to cut though the meat feast!