Cauliflower Steaks with Gremolata Crust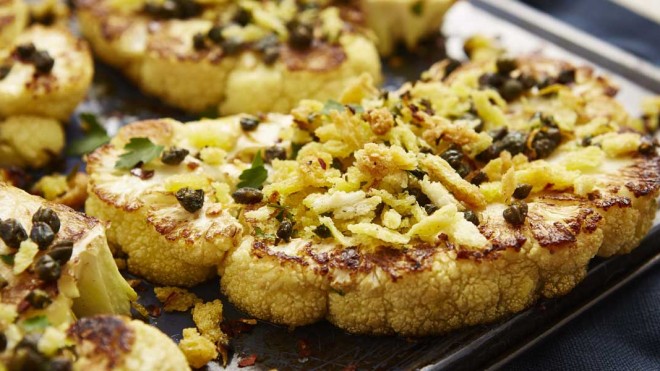 4 servings
30 minutes to prepare
Ingredients
For the Gremolata
25g coarse breadcrumbs
1/2 lemon, zest only
1 garlic clove, finely grated
1tbsp capers, chopped
1tbsp flat leaft parsley, chopped plus extra to garnish
For the Steaks
2 cauliflowers
1tbsp lemon rapeseed oil
For the Dressing
3tbsp capers
1/2 lemon, juice only
Pinch chilli flakes
2tbsp lemon rapeseed oil
1/2tsp salt
Instructions
Packed with flavour, our cauliflower recipe is the perfect alternative to a meat roast.
1. Pre heat the oven to 180°C (fan)/400°F/gas mark 6.
2. To make the gremolata place all of the ingredients into a bowl and mix well to combine.
3. For the steaks, remove the outer leaves from the cauliflowers and trim around the stalks. Cut 2 steaks from the widest part of each cauliflower approximately 2 cm thick.
4. Heat 1 tablespoon of lemon rapeseed oil over a medium heat in a large non-stick frying pan. Fry the cauliflower steaks for 3- 4 minutes on each side, you may need to do this in batches. Place the steaks onto a baking tray.
5. Mix all of the ingredients for the dressing in a bowl and spoon over the cauliflower steaks.
6. Bake in the pre-heated oven for 5 minutes. Remove the tray from the oven, scatter over the gremolata mix and bake for a further 5 minutes.
7. Place on a serving platter and scatter with extra flat leaf parsley.
Chefs Tip
Use any leftover cauliflower florets to make a delicious cauliflower cheese or cut the florets into bitesize pieces, toss in the dressing and serve as a zingy salad.
The optimum time and temperature varies by individual ovens – these are guidelines only. Please ensure all cooked recipes are served piping hot. Use separate kitchen utensils and surfaces for raw and cooked foods, or wash thoroughly in between use. Some products may only be available in our larger stores. All content © Booths 2017.