Green Bean and Broccoli Stir-Fry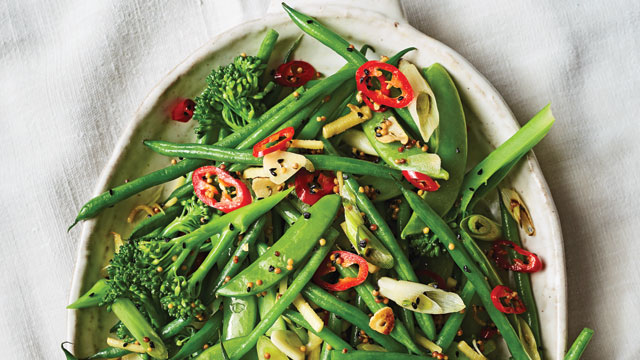 4 servings
25 minutes to prepare
Ingredients
200g green beans
200g sugar snap peas
300g tenderstem broccoli
2 tbsp olive oil
2 tsp yellow mustard seeds
1 tsp black onion seeds
4 spring onions, finely chopped
2 garlic cloves, finely sliced
2.5cm piece of fresh ginger, cut into thick sticks
1 large red chilli, finely sliced
2 tsp balsamic vinegar
Instructions
This is delicious served on its own, or alongside grilled chicken or lamb chops.
Preparation time 10 minutes
Cooking time 15 minutes
1. Cook the green beans and sugar snap peas in boiling water for 2–3 minutes, add the broccoli and cook for a further 2 minutes then drain.
2. Heat the olive oil in a large frying pan or wok and add the mustard seeds, onion seeds, spring onions and garlic and cook for a few minutes.
3. Add the green beans, broccoli and sugar-snap peas and stir-fry for a few minutes before adding the ginger and chilli and cooking for a further 4 minutes.
4. Drizzle over the balsamic vinegar and serve.