Grilled Aubergine with Tomato & Feta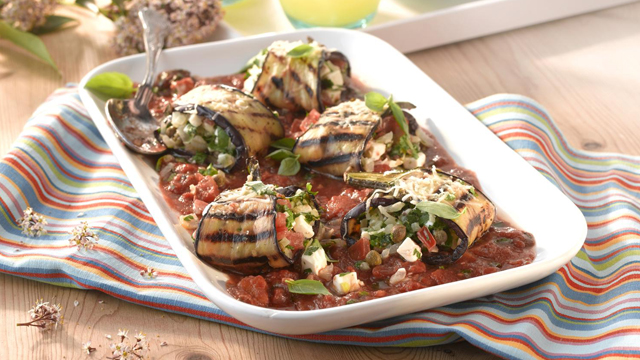 2 servings
50 minutes to prepare
Ingredients
1 aubergine, thinly sliced lengthways
1 medium onion, finely chopped
2 garlic cloves, crushed
2 plum tomatoes, deseeded and roughly chopped
150g feta cheese, cut into small cubes
1tsp capers
10g parsley, chopped
10g basil, chopped
2tbsp olive oil
25g Parmesan cheese, grated
For the sauce
400g tin of chopped tomatoes
2 garlic cloves, crushed
1tbsp balsamic vinegar
15g fresh basil
2tbsp olive oil
Instructions
Pre-heat the oven to 180°c /gas mark 4.
Place a griddle pan over a medium heat and leave to warm up whilst you prepare the aubergine. Once you have sliced the aubergine, brush both sides with olive oil and cook on the griddle pan until nicely charred and soft then place onto a plate.
Fry the onion in a little olive oil until soft then add the garlic. Continue cooking for 1 minute then pop into a mixing bowl with the tomatoes, feta, capers, parsley and basil and mix well.
Divide the feta mixture between the slices of aubergine and wrap the aubergine slices around the filling and leave to one side.
To make the sauce, gently fry the garlic in the olive oil for 20 seconds then add the remaining ingredients, bring to a simmer and season with salt and milled pepper.
Pour the sauce into an ovenproof dish then add the aubergines, top with Parmesan cheese and warm through in the oven for 10 minutes and serve.