West African Jollof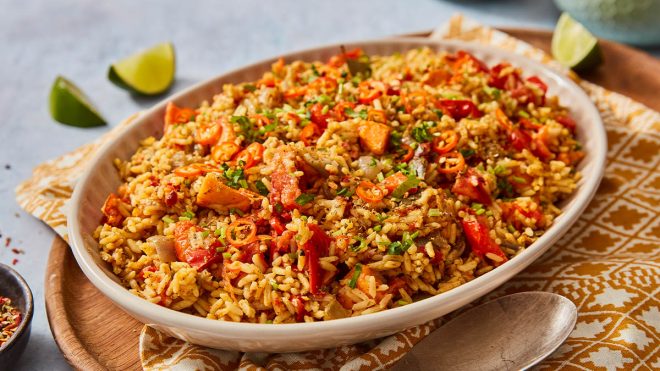 2 servings
20 mins to prepare
Ingredients
1 medium-sized red onion, sliced
2 red peppers, diced
1 sweet potato, peeled and diced
2 red chillies, sliced
2 vine tomatoes, diced
1 tbsp coconut oil
100g long grain rice or basmati rice
1 tsp dried thyme
2 bay leaves
300ml veg stock
2 tsp curry powder
1 bunch of coriander, chopped
Salt and pepper to taste
Instructions
METHOD:
Fry the red onion, red peppers, sweet potato, chilli and
tomatoes in the coconut oil.
Add the rice and mix well to coat in the juices.
Add the thyme, curry powder and bay leaf and then the stock and cook the rice until tender for approximately 15 minutes.
Finish with chopped coriander and season to taste with salt and pepper.
CHEF'S TIP This West African rice dish will serve 4 as a side or 2 as a main. It is so versatile and works well with all proteins, chicken, lamb, beef, pork, fish or prawns. Or keep it vegetarian and serve with halloumi or roasted Portobello mushrooms.