Hot Cross Bun Trifle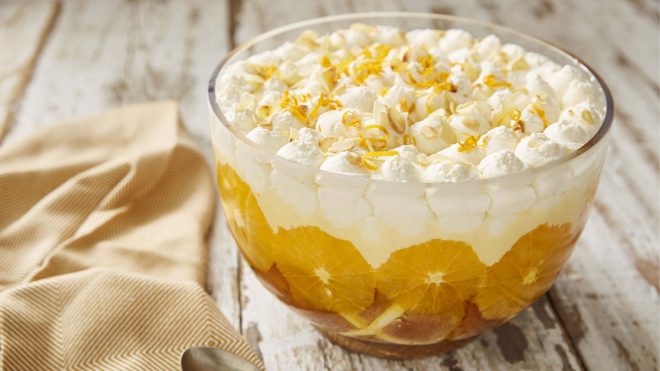 8 servings
1 hour 15 minutes to prepare
Ingredients
135g pack orange jelly
6 hot cross buns, halved
6 oranges
500g store bought custard
250ml whipping cream
100g icing sugar
250g mascarpone
TO DECORATE
25g flaked almonds, toasted
Instructions
This gorgeous trifle recipe is a great way to use up any left over hot cross buns, or just a different way to enjoy them this Easter.
Method
Make up the orange jelly as per pack instructions, set to one side.
Cut the hot cross buns in half and arrange in the bottom of a glass trifle dish (approximately 2.5 litres).
Remove the zest from 2 oranges and reserve for later. Peel the oranges and slice into rounds approximately 1/2cm thick. Arrange the slices on top of the hot cross bun base and around the sides of the dish.
Pour over the orange jelly and place in the fridge to set for one hour.
Once the jelly has set spoon over the custard and place back into the fridge whilst you make the cream topping.
Place the cream, icing sugar, mascarpone and half of the reserved orange zest into a bowl and whip to soft peaks. Spoon into a piping bag fitted with a round nozzle.
Remove the trifle from the fridge and pipe rosettes of the cream on top to decorate.
Decorate with the remaining orange zest and toasted flaked almonds and enjoy!
Chef's Tip
Why not use Booths St Clements hot cross buns in this recipe for extra orange zesty flavour? A shot of Cointreau in the jelly would be a great addition to create a boozy version!