Indian Inspired Roast Chicken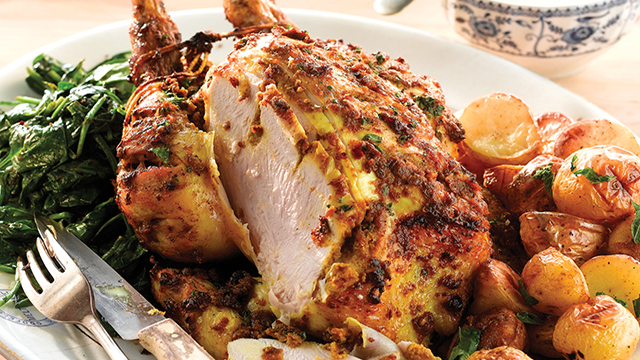 4 servings
110 minutes to prepare
Ingredients
1 whole chicken or 4 chicken legs
2tsp olive oil
1 onion, finely chopped
2½cm piece of fresh ginger, roughly chopped
2 garlic cloves, chopped
½tsp turmeric
1tsp coriander seeds
1tsp cumin seeds
1tsp chilli flakes
2tsp garam masala
400g baby potatoes
1 packet baby spinach
For the sauce
150ml natural yogurt
1 garlic clove, crushed
1 small packet of fresh mint
Juice of ½ a lemon
Instructions
To make the marinade, gently fry the onion in 1tbsp of the oil until soft. Now add the turmeric, coriander seeds, cumin seeds, chilli flakes, garam masala, garlic and ginger, continue cooking for 30 seconds then remove from the heat. Place the onions and spices into a food processor and blitz until smooth.
Place your chicken onto a roasting tray. If you're using a whole chicken make 3 cuts into the legs and 3 cuts into the breast of the chicken to help the flavours of the marinade infuse the meat. If you're using legs, simply make 3 cuts into each leg. Season with salt and milled pepper then rub the marinade all over the chicken. Ideally, leave this to marinade for 2-3 hours or overnight in the fridge if you plan ahead.
Pre-heat the oven to 190°c/gas 5.
Drizzle a little olive oil over the chicken and roast for 45 minutes. Remove from the oven add the potatoes and 300ml water then pop back into the oven for a further 45 minutes.
Whilst the chicken is cooking, make your sauce by simply placing the lemon juice,yogurt, mint and chopped garlic into a food processor then blend until smooth and greenish in colour, pop into a bowl.
Once cooked, place the chicken and potatoes onto a warmed serving plate.
Put the juices from the tray into a pan, spooning off a little of the grease. Warm the juices over a medium heat then add the spinach, stir until the spinach has wilted, season with a little salt and milled pepper.
Serve the chicken with the spinach and the minted yogurt dressing.