Jamaican Jerk Aubergine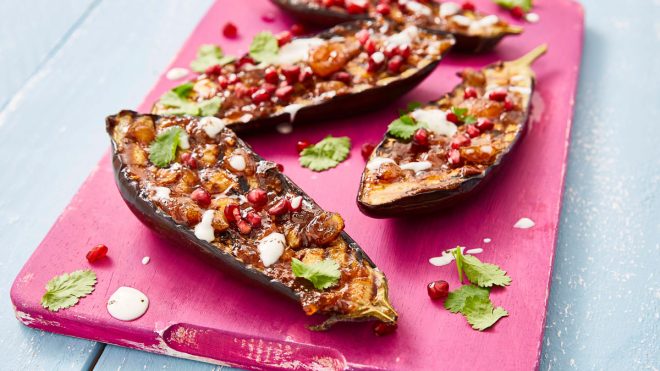 4 servings
25 minutes to prepare
Ingredients
4 aubergines, halved lengthways
Drizzle of olive oil
150g mango chutney
1tbsp Jerk seasoning
1/2 lemon, juice only
TO GARNISH
4tbsp coconut yoghurt
Pomegranate seeds
Coriander leaves
Instructions
This Jamaican jerk aubergine recipe is very quick to create and is perfect for a veggie bbq option too.
Method
Pre-heat a griddle pan over a high heat or prepare the barbecue ready for cooking.
Brush the sliced aubergine halves with a little olive oil.
Grill the aubergine halves in batches cut side down for 2-3 minutes or until charr grilled. Place on a large baking tray, or just on a plate if you're barbecuing.
Mix the mango chutney, Jerk seasoning and lemon juice in a bowl.
Using a serrated knife crosshatch the cut side of each aubergine half.
Pre-heat the grill to high if not barbecuing.
Brush each aubergine half with a spoonful of Jerk mixture.
Grill or barbecue for 15 minutes, or until the aubergines are cooked through. If cooking on the barbecue, turn as needed.
Garnish each aubergine with a dollop of yoghurt, a scattering of pomegranate seeds and coriander leaves.
Chefs Tip
Brush this Jerk mixture onto veggie kebabs, great for BBQ season. You could slice the aubergine into thick slices rather than halves, and brush both sides with the mixture before grilling.