Jammy Love Heart Sandwich Biscuits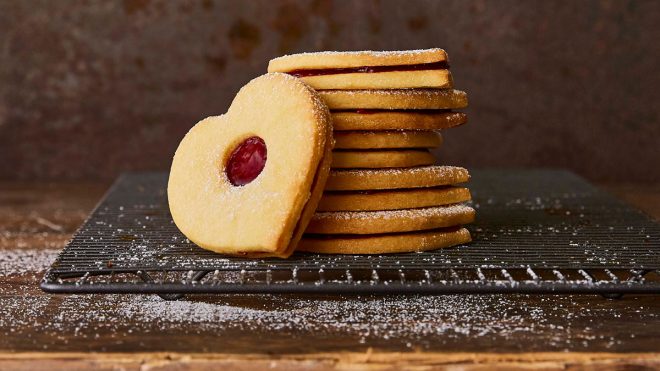 12 servings
20 minutes to prepare
Ingredients
250g plain flour
200g butter, cubed
100g icing sugar
Pinch salt
4tbsp raspberry jam
2 free range egg yolks
Instructions
Simple to make love heart butter biscuits that would make a great gift for someone special.
Preheat the oven to 170°C/150°Fan/Gas Mark 3. Place the flour, butter, icing sugar and salt into a bowl. Using your fingertips, rub the ingredients together until the mixture looks like breadcrumbs.
Add the egg yolks and mix until a dough forms. Turn out onto a lightly floured work surface and roll out to a thickness of about 0.5cm. Cut out equal love heart shapes using a cutter.
Divide the biscuits in half. Using a 2cm cutter, make a hole in the middle of half of the biscuits and discard the dough. Place all of the biscuits onto a baking tray.
Bake for 10 minutes, or until light golden-brown and crisp. Remove and transfer to a wire rack to cool.
Place a small dollop of raspberry jam on the whole biscuit and then place the other half with the hole on top.
Chef's Tip:
Add 1/4 tsp of pink food colouring to the biscuit mix to add some colour!