Mini Veggie Sliders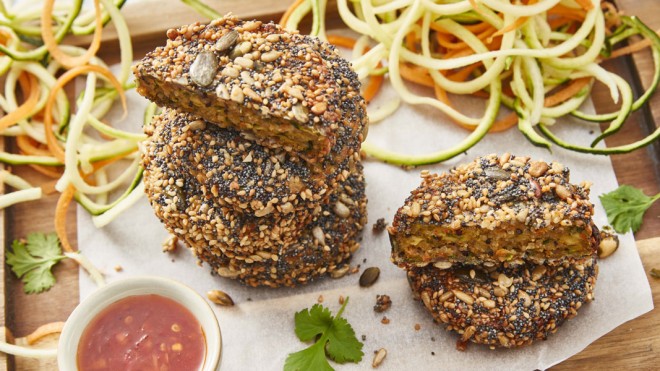 4 servings
1 hour to prepare
Ingredients
For the sliders
200g cooked quinoa
150g tofu, crumbled
150g courgette, grated
150g carrot, grated
10g coriander leaves, chopped
2 eggs, beaten
Salt & pepper
To Coat
50g sesame seeds
50g poppy seeds
50g pumpkin seeds
50g sunflower seeds
50g flour
2 eggs, beaten
To Serve
Spiralized courgette and carrot
Coriander leaves
Sweet chilli sauce
Instructions
Pre-heat the oven to 180C (fan)/400°F/gas mark 6.
Place all of the ingredients for the sliders into a bowl. Mix well to evenly combine and season. Place the mix in the fridge to chill for 10 minutes.
Remove the bowl from the fridge. Line 2 baking trays with baking paper and divide the mix into 16 mini sliders. Shape each slider and place on the lined trays. Chill for 10 minutes.
Bake the sliders in the pre-heated oven for 15 minutes. Remove and allow to stand for 5 minutes before coating.
For the coating, mix the seeds together in a small bowl.
Place the flour and egg in separate bowls. Dip the par cooked sliders first in the flour, next the egg and finally in the seeds to coat.
Place the sliders back onto the baking tray and return to the oven for a further 15-18 minutes.
Place the sliders on a serving platter and garnish each slider with spiralized carrot and courgette, a drizzle of sweet chili sauce and coriander leaves.
Chefs Tip
When coating your sliders try and use one hand for the dry flour and seeds and your other hand for the wet egg mix to save coating your hands in seeds!