Moroccan Inspired Filled Peppers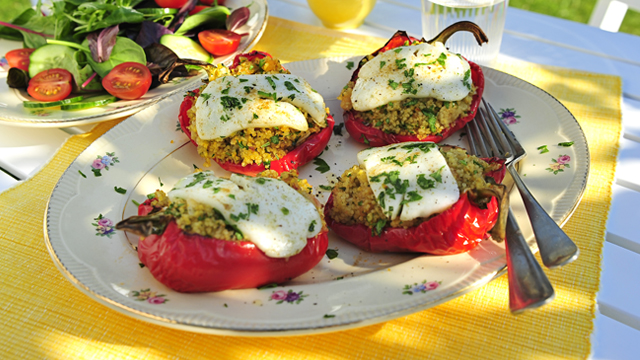 4 servings
45 minutes to prepare
Ingredients
Main Ingredients
2 sweet peppers, halved and de-seeded
1tbsp olive oil
100g cous cous
2 banana shallots, finely sliced
1 small courgette, finely chopped
1 garlic clove, crushed
¼tsp ground cinnamon
½tsp ground cumin
½tsp saffron
20g chopped dried apricots
15g flaked toasted almonds
1tbsp olive oil
300ml hot vegetable stock
1 fresh parsley
8 thin slices of haloumi cheese
Instructions
Rub the pepper halves in the olive oil until covered all over. Cook the pepper over the barbecue turning every so often, remove the peppers from the BBQ and place them onto a tray once they are slightly soft and just starting to char.
Alternatively cook in a preheated oven 190° until the peppers are slightly soft.
In a saucepan, cook the shallots and garlic over a low heat until soft. Now add the cumin, cinnamon and courgette and continue cooking for 3-4 minutes.
Next goes in the dried apricots, saffron and cous cous, continue cooking for a further couple of minutes.
Add the vegetable stock to the cous cous and place a lid on the pan, turn off the heat and leave for 10 minutes.
When ready loosen the cous cous grains with a fork and stir in the flaked almonds and parsley.
Spoon the cous cous into the peppers and top with slices of haloumi cheese.
Cook on the barbecue for 10-15 minutes in a tin foil parcel or place back in the oven until the cheese has melted.
Recommended to serve with a tomato and rocket salad.