Pulled Pork with Crunchy Coleslaw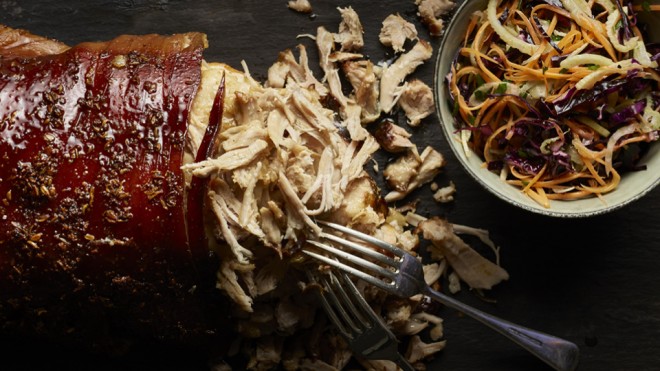 8 servings
8 hours 10 minutes to prepare
Ingredients
For the pork
3kg outdoor bred boneless pork leg, skin finely scored
100g dark Muscovado sugar
2tbsp wholegrain mustard
4 cloves garlic, finely chopped
2tbsp fennel seeds
5cm piece fresh ginger, finely chopped
2tbsp dried mustard powder
2tbsp groundnut oil
1tsp sea salt
500ml dark ale
For the coleslaw
1 large fennel, shredded finely
15g fresh dill, finely chopped
1 small red cabbage, finely shredded
2 carrots, finely shredded or grated
2 lemons, juice only
1tbsp Dijon mustard
2tbsp extra virgin olive oil
Instructions
The combination of the crunchy crackling, tender meat and sweet, spicy marinade make this pulled pork dish a moreish alternative to a traditional roast.
1 Pat the pork dry with kitchen paper and place in an extra large roasting tin. Place the sugar, wholegrain mustard, garlic, fennel, ginger, mustard powder and groundnut oil in a bowl and mix together well to make a paste. Spread this all over the pork rubbing in well and then cover with cling film and set aside for about two hours or overnight, if you have time.
2 Preheat the oven to 220°C/fan 200°C/Gas mark 7. Season the pork with sea salt and cook for 30 minutes, then pour the ale around the pork. Cover the pork with foil and turn the heat down to 120°C/fan 100°C/gas mark 1 and cook really slowly for six hours, basting now and again topping up with water or more ale to stop the base of the tin drying out.
3 Whilst the pork is cooking prepare the coleslaw by simply tossing all the vegetables and herbs together and mixing well. Whisk the lemon juice, Dijon mustard and oil in a bowl and then pour over and season with a pinch of salt and ground black pepper to taste.
4 Half an hour before the pork is ready, remove the foil and turn the heat up to 220°C/fan 200°C/gas mark 7 and cook for 30 minutes to crisp the skin. The meat should be succulent and falling apart at this stage. Remove from the oven and rest for at least 20 minutes, then pull the meat apart and mix with the juices in the bottom of the roasting tin. Serve in buns with the coleslaw and pickles.