Roast Pork Loin with Sloe Gin and Cinnamon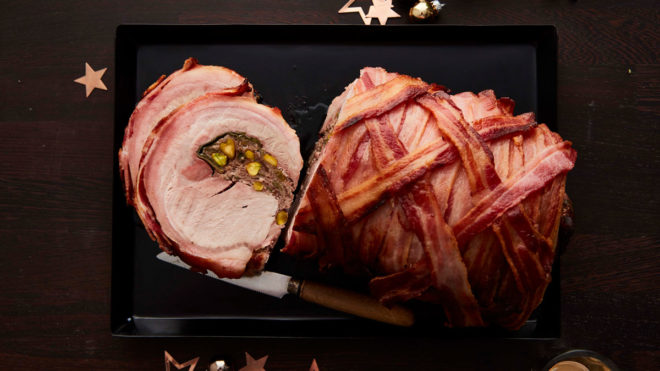 6 servings
1 hour 45 minutes to prepare
Ingredients
454g sausage meat
2tsp cinnamon
2tbsp sloe gin
75g pistachio nuts
1.5kg pork loin joint, skin removed
20g sage leaves
400g smoked streaky bacon
Instructions
This roast pork with sloe gin and cinnamon is a delicious addition to the buffet table, or why not the centrepiece of the feast on the big day?
Method
Pre-heat the oven to 160°C (fan)/350°F/gas mark 4.
Place the sausage meat, cinnamon, sloe gin and pistachio nuts in a bowl, mix well to combine.
If tied, untie the pork loin joint, place skin side down on a board and cut a slit along the length of the meat to open it out like a book.
Arrange the sage leaves along the loin in one layer.
Spread the sausage meat stuffing along the length of the loin. Tightly roll the loin and tie with butcher's string to secure.
Wrap the pork loin with streaky bacon overlapping as you go. Reserve 8 rashers of bacon, use these to criss-cross over the bacon layer to decorate.
Roast in a pre-heated oven for 1 hour 30minutes or until cooked through. Allow to rest for 10 minutes before carving.