Red Onion Gravy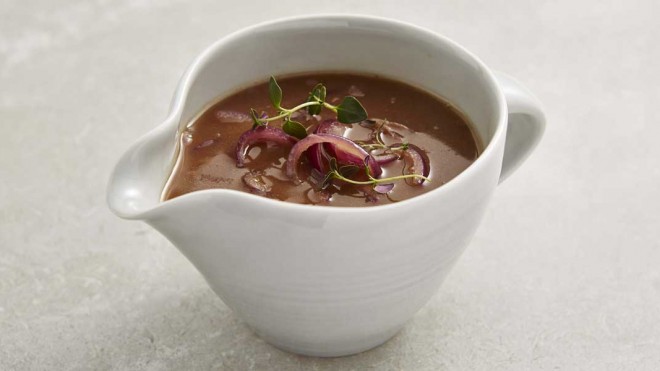 4 servings
45 minutes to prepare
Ingredients
10g butter
1tbsp olive oil
2 red onions, sliced
1/2tbsp demerara sugar
1tbsp balsamic vinegar
2tbsp plain flour
250ml white wine
500ml beef stock
2 sprigs thyme
Instructions
An easy, fool-proof gravy method that's a great place to start if you've not made your own before. It goes perfectly with all kinds of roasts – see our Chef's tip to make it vegetarian too!
Melt the butter and oil and a medium sized pan.
Add the onions and caramelise over a medium heat for 20 minutes, stirring occasionally.
Add the sugar and balsamic vinegar, cook for 1 minute.
Add the flour, stir well and cook for 1 minute.
Add the white wine, bring to the boil and boil for 5 minutes.
Add the beef stock and thyme sprigs. Bring to the boil, reduce to a simmer and simmer for 5 minutes or until desired consistency is reached.
Check for seasoning and pour into a warmed gravy jug.
Chefs Tip
Make this recipe vegetarian by swapping out the beef stock for vegetable stock and using a vegetarian wine. Replace the white wine with red wine for a rich alternative.
The optimum time and temperature varies by individual ovens – these are guidelines only. Please ensure all cooked recipes are served piping hot. Keep raw meat separate from cooked food. Use separate kitchen utensils and surfaces for raw and cooked foods, or wash thoroughly in between use. Wash hands after handling raw meat. 
Some products may only be available in our larger stores. All content © Booths 2017.