Roast Veal Tenderloin with Sweet Potato Mash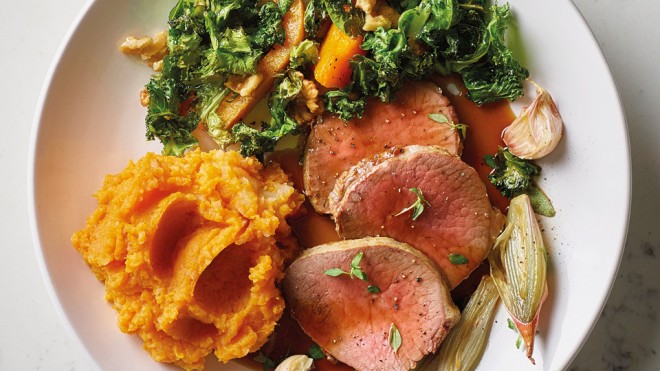 6 servings
1 hour 40 minutes to prepare
Ingredients
1kg veal tenderloin filelt
2tbsp olive oil
200g shallots, halved
8 garlic cloves, bruised
6 sprigs fresh thyme
2 sprigs fresh rosemary
600ml white wine
For the mash
500g carrots
500g sweet potatoes
3 garlic cloves
25g butter
For the Kale
2tbsp olive oil
1tsp cumin seeds
300g butternut squash peeled
500g kale, roughly chopped
60g walnut pieces
Instructions
1 Preheat the oven to 180°C/fan 160°C/gas mark 4. Season the veal loin all over with salt and ground black pepper. Heat the oil in a heavy based oven proof frying pan or roasting tin and add the veal. Cook on all sides for 3-4 minutes until browned all over. Add the shallots, garlic, herbs and 300ml of the white wine to the pan then transfer to the oven and roast for 50 minutes to 1 hour.
2 Whilst the veal is cooking place the carrots, sweet potatoes and garlic in a large pan of water and bring to the boil and cook for 12 minutes. Drain and roughly mash with the butter, salt and pepper to taste.
3 Place the butternut squash in a roasting tin and toss with the olive oil and cumin seeds. Roast at the top of the oven for 15 minutes until starting to turn golden at the edges. Add the kale and toss well with the butternut squash and the walnuts and roast for a further 10 minutes.
4 Remove the veal from the oven and set aside covered in foil to rest. Place the frying pan or roasting tin on the hob and deglaze the pan with the remaining white wine scraping up all the pan juices, cook for 5-10 minutes until reduced. Strain through a sieve into a jug.
5 Slice the veal into thick rounds and serve with the sweet potato mash, kale and the pan juices.