Self-saucing Lemon Sponge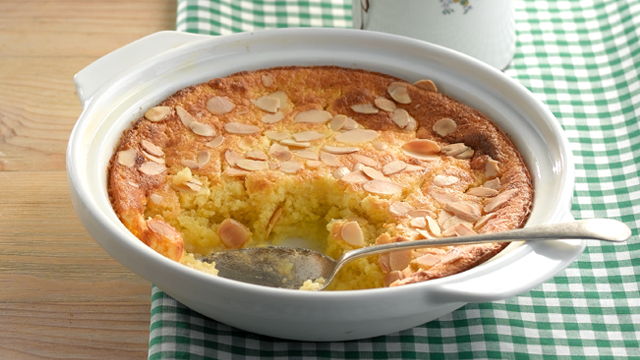 2 servings
60 minutes to prepare
Ingredients
zest juice of 2 lemons
75g self-raising flour
3 medium eggs, separated
75g butter, softened at room temperature
150g caster sugar
200ml milk
1tbsp flaked almonds
Instructions
Pre-heat the oven to 180°c/gas 4.
Lightly grease a 1½ litre ovenproof dish with a little butter.
In a large mixing bowl beat together the softened butter, caster sugar and lemon zest until light and fluffy.
Now beat in your egg yolks, one at a time. Sieve in the flour and gently fold into the mixture. Gradually stir in the milk and lemon juice. At this stage the mixture can look like it has curdled, but don't worry.
In a clean, grease free bowl, whisk the egg whites until you have soft peaks. Using a large metal spoon, fold the egg white into the lemon mixture taking care not to beat the mixture.
Pour this mixture into your buttered dish, scatter over the flaked almonds and bake for about 35-40 minutes until the sponge is golden and the top feels firm to touch.
Serve the sponge straight away, not forgetting to spoon over some of the lovely sauce at the bottom of the dish and if you fancy, add a drizzle of cream.