Smoked Trout Pâté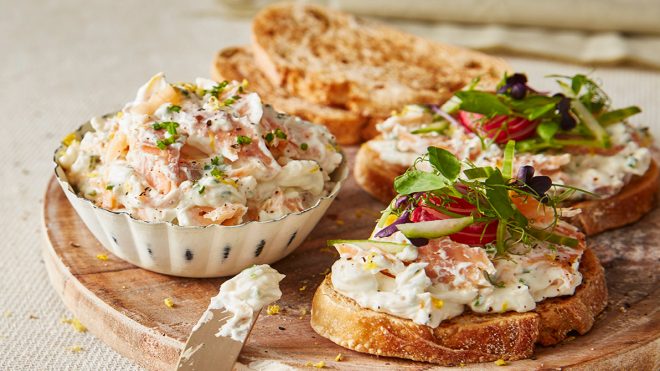 4 servings
20 mins to prepare
Ingredients
125g cooked smoked trout
150g soft cream cheese
1 tsp horseradish sauce
Zest and juice of 1 lemon
Salt and pepper
Handful of chives, finely chopped
Drizzle of olive oil
Toasted Sourdough to serve
Pea shoots, radish and cucumber to garnish
Instructions
METHOD:
Add the cream cheese, lemon, chives, horseradish and oil to a bowl and mix well.
Flake in the trout and mix gently.
season to taste.
Serve on toasted sourdough and garnish with cucumber, pea shoots and radish.
CHEF'S TIP:
You can use fresh trout fillets instead of smoked if you would like. Pan fry with a little oil for a couple of minutes either side and allow to cool, before following the recipe from step 2 onward.