Baked Fig and Amaretto Cheesecake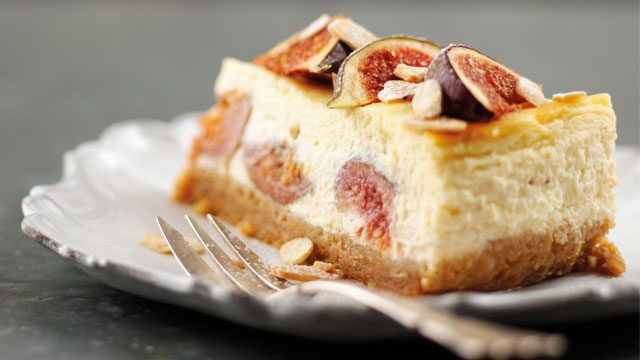 10 servings
85 minutes to prepare
Ingredients
150g digestive biscuits
75g unsalted butter, melted
20g hazelnuts
For the filling
75ml Amaretto
500g full fat cream cheese
125g caster sugar
2 eggs
1 tsp vanilla extract
150ml sour cream
30g flaked almonds
2tsp icing sugar
6 fresh figs
Instructions
Take a 20cm spring-form cake tin base and line with non-stick baking paper.
Take 4 of the figs and cut into quarters, then pour over the Amaretto and leave for a couple of hours.
Pre-heat the oven to 160ºc, gas mark 3.
Place the biscuits and hazelnuts into a food processor and mix until you have a fine crumb. Combine the biscuit crumbs and melted butter, then lightly press into the prepared cake tin. Bake for 10 minutes and leave to cool.
In a large mixing bowl beat the cream cheese until smooth. Add the caster sugar, vanilla extract, eggs, sour cream and the Amaretto from the figs (but not the figs) and beat until well combined. Gently fold in the figs and then pour the mixture over the biscuit base, smoothing off the top.
Bake the cheesecake in the middle shelf of the oven for 35 minutes. The top should set, yet still have a wobble in the middle. Remove the cheesecake from the oven, run a small knife around the edge and leave to cool completely. Once cooled, leave in the fridge overnight. Don't worry if the cheesecake forms cracks, this is natural.
Remove the cheesecake from the tin and place onto your serving plate. To finish the cake, cut the remaining figs into quarters and place onto a baking tray with the flaked almonds. Sprinkle over the icing sugar and bake at 180 ºc, gas mark 5 until the almonds are golden. Allow to cool before scattering onto the cheesecake and serve.