Apple, Fig & Pear Chutney Recipe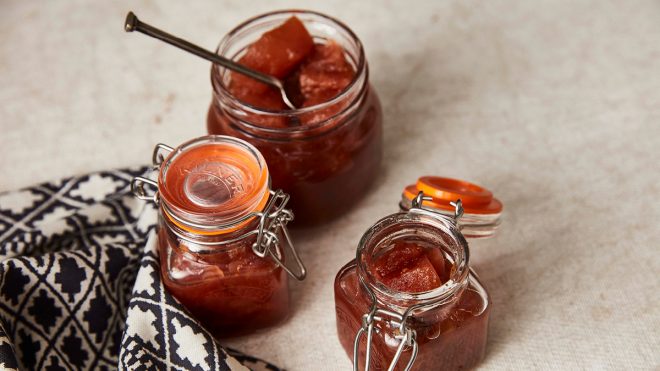 10 servings
3 hours to prepare
Ingredients
750g apples, chopped into small cubes
500g fresh figs, quartered
375g onions, peeled and diced
2 oranges, zest and juice
1kg pears, peeled and cut into small cubes
500g soft, brown sugar
1tbsp cardomom pods, freshly crushed
1tbsp cinnamon
450ml cider vinegar
Instructions
Absolutely gorgeous with a cheese board, this apple, fig and pear chutney is easy to make and a great introduction to the world of preserving. Makes about 2.5 litres chutney.
Simmer the orange juice, apples, pears, onions and figs gently in a heavy bottomed pan until soft and the fruit has cooked through.
Add all of the sugar, vinegar, orange zest and spices to the pan, then bring it to the boil.
Bring the heat down to a brisk simmer and then cook until you reach a good chutney consistency, usually about an hour. Test the consistency by running a spoon through the mixture, if it leaves a trail behind it then it's ready. Make sure you stir regularly to stop it sticking.
To sterilise the jars, preheat the oven to 120c/250f. Wash the jars and metal lids in hot soapy water, rinse well and then place on a baking tray and into the oven for 20 mins or so. Carefully remove them and set them aside ready for filling.
Once ready, carefully ladle the chutney into the hot, clean, sterile jars and seal with a new screw top lid. Always fully fill the jar and seal immediately.
Store in a cool, dark place for a month to mature and then the fridge once opened. Consume within 3 days once opened.
Chef's Tip
Try adding a little alcohol for a little more punch, cointreau would work well in this recipe, just replace part or all of the orange juice. From pumpkin, to beetroot to courgette, virtually anything can be chutneyed so get creative with your preserving!