Spiced Apricots and Summer Berries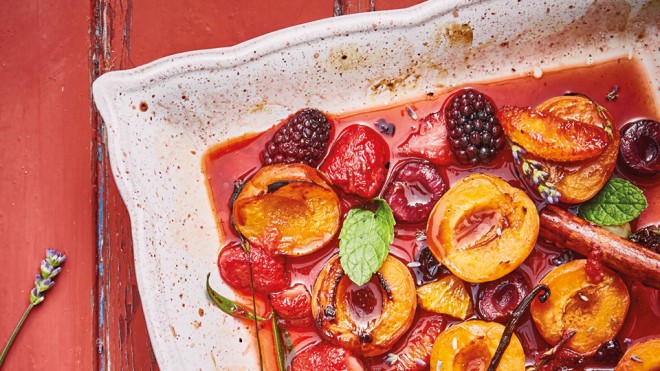 6 servings
15 Minutes to prepare
Ingredients
12 ripe apricots
1 punnet raspberries
1 punnet blueberries
½ punnet strawberries
½ punnet blackberries
½ punnet gooseberries
2 oranges, peeled and cut into 8 segments
3-4 stems of fresh lavender, or ½tsp dried lavender petals
4tbsp Houghton English honey
2tbsp soft brown sugar
300ml Orange Muscat dessert wine
5 star anise
1 vanilla pod, split lengthways
8 cloves
1 cinnamon stick, broken into 3 pieces
Instructions
1 Halve the apricots and remove the stones. Arrange the halved apricots, orange and soft fruits into a shallow oven proof dish with the vanilla, lavender and spices. With a table spoon, drizzle the honey evenly over the fruit, pour over the Orange Muscat.
2 Cover the dish with baking parchment and again with tin foil to form a tight seal, place in an oven preheated to 180oC for 15 minutes.
3 Remove paper and foil, sprinkle over the soft brown sugar, then return to the oven uncovered, for a further 10 minutes.
4 Remove from the oven and allow to cool for 10 minutes before serving. Serve with clotted cream or ice cream.
CHEF'S TIP Edible flowers such as pansies, nasturtium and lavender make a colourful garnish to finish this simple summer dessert. Any leftovers can be kept refrigerated and perhaps served with natural yoghurt and granola for a delicious and healthy breakfast!