Spiced Barbeque Pork Ribs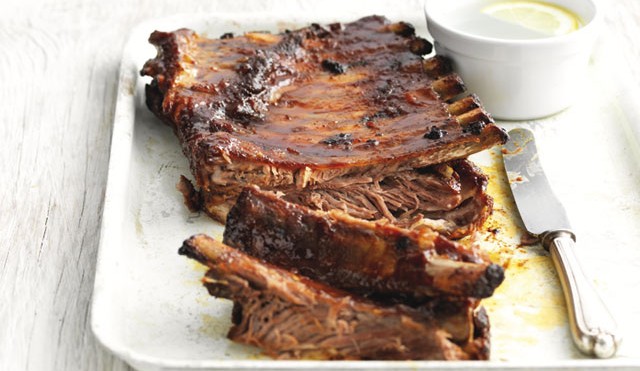 4 servings
15 Minutes to prepare
Ingredients
2 whole racks of pork ribs
Olive oil for brushing
200g light brown sugar
1 tbsp sweet paprika
2 tbsp cayenne pepper
2 tbsp salt
2 tbsp mustard powder
1 tbsp ground white pepper
2 tsp garlic powder
Instructions
Method:
Take a large baking tray and line with tin foil, lightly brush the foil with a little olive oil.
Rinse the ribs and pat dry with kitchen roll.
Mix the remaining ingredients in a small bowl. If you don't like your food too spicy simply reduce the amount of cayenne pepper to 1 tbsp or leave out completely.
Place the ribs, bone-side down onto a clean work surface. Rub half of the spice mixture all over this side of the ribs, really working the mixture into the meat.
Place the ribs meat side down onto the foil lined baking tray and rub with the remaining mixture, if you have time pop the ribs into the fridge for a few hours or over night to marinate.
Pre-heat your oven to 180ºc, gas mark 4. Cover the ribs tightly with foil and bake in the oven for 1½ hours.
Remove the foil and leave the ribs to cool. Meanwhile heat the BBQ (don't cook until the coals look like grey ash) or alternatively turn the grill to maximum.
Brush or spoon the cooking juices all over the ribs, and if you have any leftover, tip into a small bowl to baste whilst they colour.
Cook the ribs on the BBQ or grill for about 15-20 minutes until you have a beautiful glaze and a slightly charred look.
Great served with our Summer Coleslaw recipe and new season potatoes.