Spicy Chicken Salad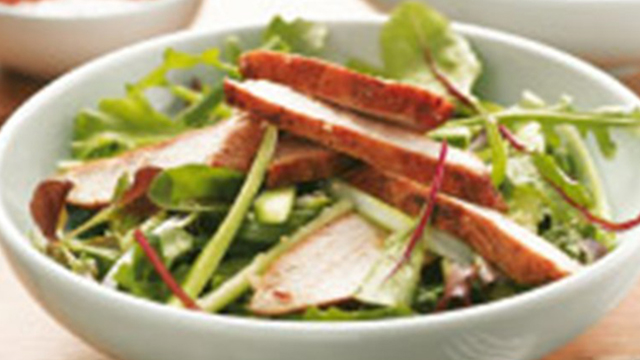 2 servings
30 minutes to prepare
Ingredients
2 boneless chicken breasts
6 tablespoons soy sauce
½tsp five spice paste
½tsp crushed chillies
1 bag mixed salad leaves
Pinch of salt
1tsp sesame seeds
1 bunch spring onions
½ cucumber
Sweet chilli dipping sauce to serve
Instructions
Combine the soy sauce, five spice and crushed chillies in a non metallic dish and coat the chicken and marinate for at least an hour in the fridge.
Preheat the grill until hot and then cook the chicken breasts for 20 minutes, turning halfway through cooking.
To prepare the salad, wash the leaves and place in a large bowl. Cut the cucumber and spring onions into long thin strips then mix with the salad leaves and sprinkle over the sesame seeds.
When the chicken is cooked, slice into strips and serve hot or cold on top of the mixed salad with sweet chilli dipping sauce.