Squash & Halloumi Bake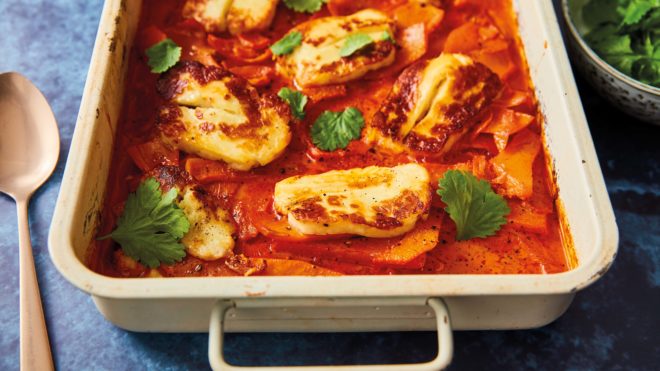 2 servings
10 mins to prepare
Ingredients
1 butternut squash
A drizzle of oil
1 red onion, sliced
2 garlic cloves, sliced
120g Tandoori Paste
250g block halloumi, sliced into 8
200ml coconut milk
To serve
Coriander leaves
Instructions
METHOD
1 Peel the butternut squash, cut in half then quarter each half. Scrape out the seeds and cut the squash into thin slices, approximately ½ cm thick.
2 Heat a drizzle of oil in a frying pan, add the squash and sliced red onion, sauté covered for 5 minutes.
3 Add the garlic and cook for 1 minute.
4 Add the Tandoori paste and cook for 1 minute.
5 Add the coconut milk, bring to a simmer, cover and cook for
5 minutes.
6 Uncover and transfer to an ovenproof dish, then arrange the sliced halloumi on top and cook under a hot pre-heated grill for 5 minutes or until the halloumi is golden brown.
7 To serve, scatter with fresh coriander leaves and enjoy!
CHEF'S TIP
We have used butternut squash in this recipe but you can use any squash or even sweet potato. Swap the curry paste flavour for a change, why not try Tikka and scatter with toasted flaked almonds?