The Ultimate Fish Finger Sandwich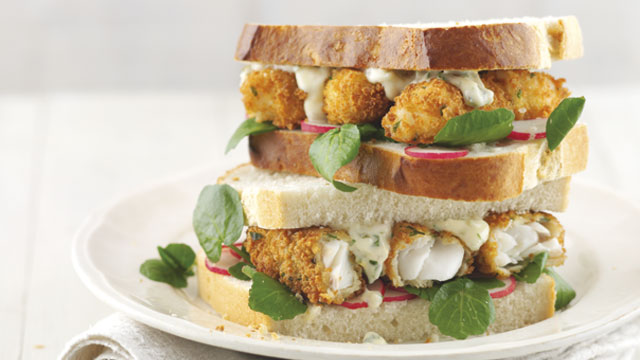 2 servings
35 minutes to prepare
Ingredients
2 Hake fillets, skinned (any white fish works such as plaice, sole, haddock or whiting)
1 tbsp plain flour
1 egg beaten with 1tbsp milk
50g slightly stale white bread, crusts removed and roughly torn
1 tsp chopped fresh parsley
zest of ½ an Amalfi lemon
2 tbsp sunflower oil
FOR THE TARTARE SAUCE
2 tbsp mayonnaise
Zest and juice of the remaining ½ Amalfi lemon
5 cornichons, finely chopped
½ tbsp capers, chopped
1 tbsp fresh parsley, chopped
1 small shallot, finely chopped
TO SERVE
4 slices of your favourite bread, buttered Fresh watercress, large sprigs removed Sliced radishes (optional)
Instructions
Preparation time 25 minutes
Cooking time 10 minutes
In a food processor add the torn bread with the parsley and lemon zest and whiz until you have a lovely fine crumb. Tip into a bowl.
Place the flour into another bowl and the egg into a third bowl.
Cut the fish into 2-3cm wide strips. Toss in the flour, then the egg followed by the breadcrumbs. Take a large frying pan, gently heat the sunflower oil over a medium heat and cook the goujons for 2-3 minutes on both sides. Keep warm in a low oven.
For the tartare sauce simply mix all the ingredients until well combined.
Once made, the tartare sauce will keep in a fridge for a couple of days.
To assemble your sandwich add a small handful of watercress to your buttered bread, top with a few thin slices of radish, then your plaice goujons. Add a generous spoonful of tartare sauce and another slice of buttered bread. Slice and serve. Delicious!