Fish Tacos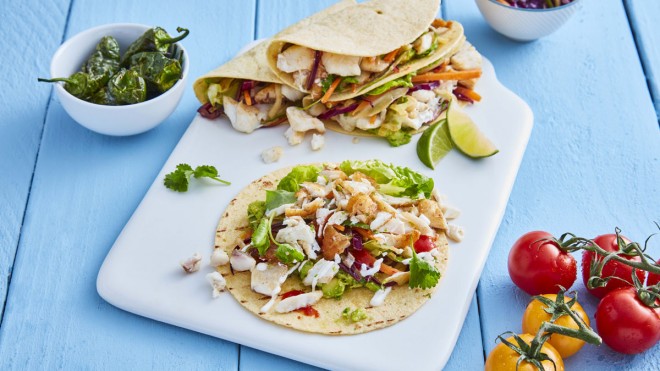 4 servings
20 minutes to cook, 15 minutes to prepare
Ingredients
For the Marinade
3tbsp olive oil
2 limes, juice only
1/2tsp paprika
1/2tsp ground cumin
2 garlic cloves
For the Filling
400g white fish, cut into 2cm pieces (cod, seabass, pollock or hake all work well)
8 soft corn tortillas
1 baby gem lettuce, roughly chopped
1 ripe avocado
2tbsp creme fraiche
For the 'slaw
1 ripe mango cut into thin strips
Red cabbage, finely shredded (as much as you like)
1/2 cucumber, finely shredded
1 green chilli, deseeded and chopped
1 large carrot, finely chopped
1tbsp fresh coriander, chopped
1tbsp olive oil
1 lime
Instructions
These fish tacos are perfect for a light lunch, or a build your own fish supper for the family.
Combine all the marinade ingredients in a mixing bowl, add the fish and a little salt and pepper and mix well. Leave to marinate for 10 minutes.
To make the 'slaw combine all the ingredients in a mixing bowl and mix well then season to taste. Peel and halve the avocado and use the side of your kitchen knife to lightly crush it.
Drain the fish from the marinade and cook in a non-stick frying pan with a little vegetable oil over a high heat, turning occasionally until cooked through and starting to colour. Drain the fish on kitchen roll to soak up any excess oil.
To assemble each taco, smooth a little crushed avocado over each tortilla and top with the lettuce, mango 'slaw, fried fish and finally a drizzle of sour cream and a little hot sauce (optional) to add an extra kick. Fold each tortilla in half and serve immediately.
Chefs Tip 
Use a mandolin to slice the ingredients for the 'slaw as finely as possible. If you don't have one, use a cheese grater for the carrot and a sharp knife to cut everything else down to size. Traditional tacos are made with soft corn tortillas rather than crisp taco shells. If you can't find small soft corn tortillas, regular flour tortillas will work too.