Unicorn Cupcakes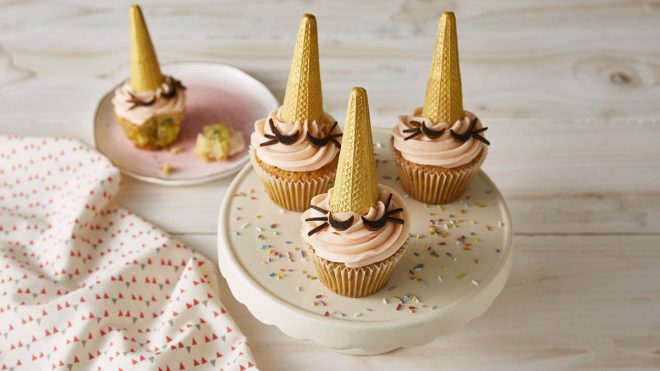 12 servings
45 minutes to prepare
Ingredients
FOR THE CUPCAKES
175g margarine
175g caster sugar
175g self-raising flour
3 eggs
4tbsp coloured sprinkles of choice
FOR THE BUTTERCREAM
200g butter, softened
400g icing sugar
1/2tsp vanilla extract
1tbsp milk
Pink food colouring
TO DECORATE
12 ice cream cones
2 liquorice sticks
Instructions
A classic cupcake given a modern decorative twist – who doesn't love a unicorn at the moment?
To make the cupcakes
Pre-heat the oven to 160°C (fan)/350°F/gas mark 4.
Line a 12-hole muffin tin with paper muffin cases.
Place the margarine, sugar, flour and eggs into a mixing bowl. Beat to combine using an electric mixer.
Fold the sprinkles (optional) into the mix and divide the mix evenly between the muffin cases.
Bake in the pre-heated oven for 25-30 minutes.
To check the cupcakes are cooked, insert a skewer into the centre, it should come out clean when cooked.
Remove and allow to cool for 10 minutes before placing on a cooling rack to cool completely.
To make the buttercream
Place the softened butter into a large mixing bowl, sift the icing sugar into the bowl and beat to form a smooth icing. Add the vanilla extract, milk and a couple of drops of pink food colouring, mix well.
To decorate
Place the buttercream into a piping bag fitted with a star nozzle. Pipe a rosette of buttercream on top of each cupcake.
Asking an adult to help, use a serrated knife to remove the base from each ice cream cone to make your unicorn horn.
Cut the liquorice using scissors to make eyes and eyelashes for your unicorn.
Decorate each cupcake with the ice cream cone horn and liquorice eyes.
Place on a cake stand to serve and enjoy.
Chefs Tip
Reserve the trimmed ice cream cone bases. Place in a freezer bag and crush using a rolling pin, mix with extra sprinkles and sprinkle over scoops of ice cream for a crunchy topping.