Your Booths Card FAQs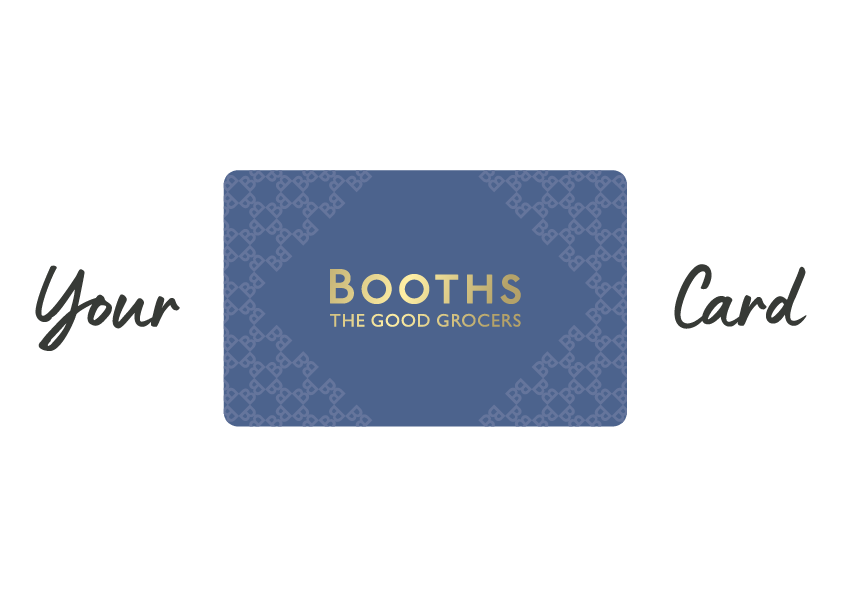 Here you will find the answers to all the frequently asked questions about Your Booths Card.
Newspaper Benefit Changes
Why are you changing the newspaper offer?
Following the Booths card relaunch in 2020 we have focused the card on offering more everyday value, especially through the 5% reward benefit. We want to continue this and offer more everyday value in other areas of the store therefore we are changing to a cardholder newspaper offer across the full week with no minimum spend. This will appeal to twice as many cardholders including those doing smaller shops and shopping in the week.
Will I get any benefits from buying a weekend newspaper now?
Yes you will receive a 10% instant saving across all weekend newspapers, without the need to spend £25.
How much do I need to spend to get a 10% newspaper offer?
There are no minimum spend requirements.
When can I get the new newspaper offer?
From Monday 11th September.
When does the weekend newspaper offer stop?
The last day you can redeem the weekend newspaper offer is 10th September.
How many newspapers can I buy as part of this offer?
There is no limit on the number of newspapers you can get with a 10% saving.
Can I use newspaper coupons?
Yes you can continue to use your pre-paid vouchers to pay for the newspaper.
How does the 10% newspaper saving work?
When your newspaper is scanned with a Booths card,10% will be automatically taken off the cost of your newspaper at the checkout.
What are the benefits to having a Booths card now?
There are so many benefits to having a Booths card, which all reward, inspire and treat our cardholders. Our main focus is the 5% reward which gives cardholders 5% back on 1000s of products, which customers will save up and receive back as vouchers to spend in store or in our café.
You can also benefit from exclusive café offers, along with complimentary product treats and not to forget instant savings on new products and Booths brand launches and as of 11th September a 10% instant saving on all newspapers.
---
The 5% Reward
How does the 5% reward work?
You will earn a 5% reward on purchases of qualifying products in selected categories. 5% of the purchase price will be added to your Booths card account. When your account balance reaches £5, you will be rewarded with a £5 voucher to spend in store. The vouchers will be distributed on a quarterly basis and go up in increments of £5. The vouchers will be sent to the address associated with your account.
How do I check my balance?
You can check your up to date balance by logging into your Booths card account here. You will also be able to see your balance on your e-receipt. If you don't have access to either you can contact our Booths card helpline on 0370 774 9507 , Monday to Friday between 8.30am and 4.30pm.
How do I find out which products are included in the 5% reward offer?
Please look out for the following symbol

next to all qualifying product in store. The qualifying categories are:

Food: Frozen Food, Soft Drinks, Cereals, Preserves, Tinned Soups, Tinned Fish, Veg, Meat and Fruit, Tea and Coffee, Condiments, Home Baking, International Foods (excluding Rafi's concessions), Biscuits, Confectionery, Ambient Free From, Ambient Desserts, Oils and Vinegars and Long Life Milk.
Non-Food: Pet Food, Laundry, Hardware, Toiletries, Household, Baby Care (excluding Baby Milk), Paper, Tissue, Outdoor – BBQ, Fuel, Car Care, Hosiery and Medicines.
The products I buy regularly aren't included in the 5% reward. Why am I not being rewarded?
The products included in the 5% reward benefit have been chosen based on customer feedback and cover a wide selection available at our stores.
Why can't you give me 5% back straight away at the till?
Like other loyalty schemes, customers like to be able to build up a pot of money based on their loyalty and receive this as a voucher to spend in store at a later date.
How and when will I receive vouchers?
We will issue vouchers quarterly through the post. If you have reached £5 in your account balance, you will be rewarded and receive a voucher through the post.
I've moved house, how can I make sure my address is correct so the vouchers go to my new house?
You will be able to log into your account to update your details to ensure your vouchers are sent to the correct address. If you don't have an online account you can contact our Booths card helpline on 0370 774 9507, Monday to Friday between 8.30am and 4.30pm.
I forgot my Booths card, can I add my receipt to my account at a later date?
Unfortunately you cannot add any missed receipts to your 5% reward balance. Ensure you swipe your card or give your card number to the colleague at the till every time you shop to keep building your 5% reward balance.
How do I choose to request my rewards go to charity instead of myself
You can do this by logging into your account and ticking the charity donation preference option. If you do not have internet access you can do this by contacting Booths card helpline on 0370 774 9507, Monday to Friday between 8.30am and 4.30pm.
Can I alternate between donating to charity and receiving the vouchers myself?
Yes please ensure you keep your account up to date. You can change your preference up until the rewards collection cut-off date for the next voucher release. This information can be found by logging into the website.
Why have you chosen the Foodbank as your chosen charity?
Commitment to supporting our local communities is an important part of Booths ethos, and a key element of this is our food bank scheme.
Pioneered by our very own Colin Porter, we're partnered with an assortment of local charities from donation hubs, who distribute donations to where they're needed, to kitchens who can make use of our surplus food. A selection of our partners even work from within the stores themselves, in space reserved for them in our warehouses. Colin says:
"Supporting anybody who is in need is core to the Booths values and we want to help more people and families who are going through challenging times. Homelessness, financial issues or just circumstances that have fallen upon you can make the basics in life a challenge and I am personally delighted and proud to say; we are going to help make a difference to local people and families."
Find out more on our webpage here.
---
The Booths Card Terms & Conditions are available here.