Kirkby Lonsdale
The unique strength of Booths' buildings is that every one is designed for its environment. Kirkby Lonsdale is constructed from local limestone taken from the ground it sits in. The store was bestowed with a Royal Town Planning Institute Planning Achievement Award in 2001.
On taste throughout our stores this weekend (21st & 22nd November) we have:
From our Hot Counters we have hot Cumbrian Chicken which is sourced locally from one of our long standing suppliers & our Booths Pork Sausage one of our original favourites from our Booths Sausage Celebration.
As the nights are drawing in why not choose between a Chicken, Ham & Leek Pie or our own Roast Squash & Mrs Bells Blue Quiche; a shortcrust pastry case with TRUEfoods creamy custard which envelopes sweet & chunky oven roasted sweet butternut squash with sage & olive oil, sautéed white onions, dotted with Shepherds Purse Mrs Bells blue cheese which are both available from our Deli Counter.
From the Cheese Counter why not try Mrs Kirkhams Smoked Lancashire; the only unpasteurised Lancashire Cheese traditionally Oak Smoked by Chris Sandham.
In Grocery why not try our Heavenly Bakes Very Berry Flapjack or OMG Slice?
Within Licensed enjoy Rekorderlig Winter Cider either cold over ice or hot with a slice of orange for a perfect winter warmer. Or even serve as a hot toddy by mixing with a combination of rum, honey, lemon and Rekorderlig hot Winter Cider served with a cinnamon stick & an orange wheel.
We also have Chateau Dereszla Dry Tokaji; Tokaj (formerly Tokaj-Hegyalja) has long been Hungary's most famous and respected wine region, thanks mostly to its nectar-like, botrytized Tokaji dessert wines. The region and its wine are held in such esteem in Hungary that the Hungarian national anthem thanks God that Tokaj szőlővesszein nektárt csepegtettél ("into the vineyards of Tokaj you dripped sweet nectar").  Alternatively why not try Chateau Cesseras Minervois Cuvée Olric; One of the world's most diverse and successful grape varieties, Syrah wines can display myriad dark-fruit flavors. Varietal Syrah can be quite floral in its youth, developing more peppery and herbaceous notes as it ages. Some examples show tanned leather and smoky scents, while the fruit in these wines tends towards the very dark flavours of blackcurrant and liquorice.
With all of these delights on offer why not pop in this Saturday or Sunday and give them a try.
In Store Facilities
Bakery
Butcher
Camping
Cash Point
Cheesemonger
Delicatessen
Fishmonger
Hot Food
Lottery
Recycling Facilities
Speciality Oils & Vinegars
Blog & Latest News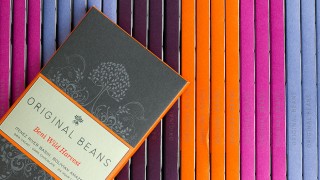 Written on April 29th, 2014
---
Many agree that good chocolate makes a bad day better. It's been said that Original Beans chocolate makes the world better. New in store, these four very special bars are made from some … Read More