Kirkby Lonsdale
The unique strength of Booths' buildings is that every one is designed for its environment. Kirkby Lonsdale is constructed from local limestone taken from the ground it sits in. The store was bestowed with a Royal Town Planning Institute Planning Achievement Award in 2001.
On taste throughout our stores this weekend we have:
Join us in celebrating our new range of sausages with a selection on taste this weekend. A lot of people don't realise that we actually make our own sausages in Preston. We have been working on our range to improve the recipes and packaging so they looks as good as the sausages taste. We've also developed some new flavours to celebrate our local suppliers, such as Pork & Hawkshead Ale Sausage, Pork & Dewlay Lancashire Cheese Sausage (on taste this weekend), Pork & Hawkshead Caramelised Onion Relish Sausage and Pork & Apple with Pure North Cider Press Sausage. Another new addition to the range is The Victorian Breakfast Sausage. The recipe is based on spice mixes that were popular around the time when Booths first started trading in 1847 this is also the time when the traditional full English breakfast became popular making it the perfect addition to one's breakfast plate – so pop in this Saturday or Sunday and give it a try.
In Grocery we have Booths Traditional Mince Pies, Booths Stollen Bites, Bothams Tea Brack and Gooseberry & Elderflower Jam.
In Produce we have New Season Sweet Honeydew Melon – perfect eaten on its own or within a fruit salad.
From our Counters we have Hot British Beef, Toppings Apple Topped Pork Pie, Andrew Jones Large Pork Pie, Andrew Jones Pork Pie/Black Pudding.
Within Licensed why not try our Booths Mulled Wine, Bozeto de Exopto Rioja, Stanley Estates Sauvignon Blanc:
Made by Frenchman Tom Puyaubert, Bodegas Exopto is a relatively new name in Rioja. Spicy cherry and blackberry nose with sweet raspberry flavours and crisp acidity. Match with roast turkey, cured cheeses, grilled meats or paella.
This Sauvignon Blanc is a very aromatic wine; lush flavours of gooseberries, green tomato stalks and capsicums. It has ripe, zesty fruit flavours of lychees, passionfruit and gooseberries.
In Store Facilities
Bakery
Butcher
Camping
Cash Point
Cheesemonger
Delicatessen
Fishmonger
Hot Food
Lottery
Recycling Facilities
Speciality Oils & Vinegars
Blog & Latest News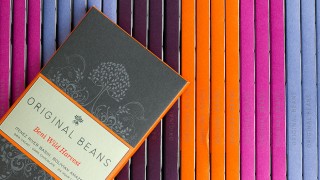 Written on April 29th, 2014
---
Many agree that good chocolate makes a bad day better. It's been said that Original Beans chocolate makes the world better. New in store, these four very special bars are made from some … Read More