Craft Soft Drinks Range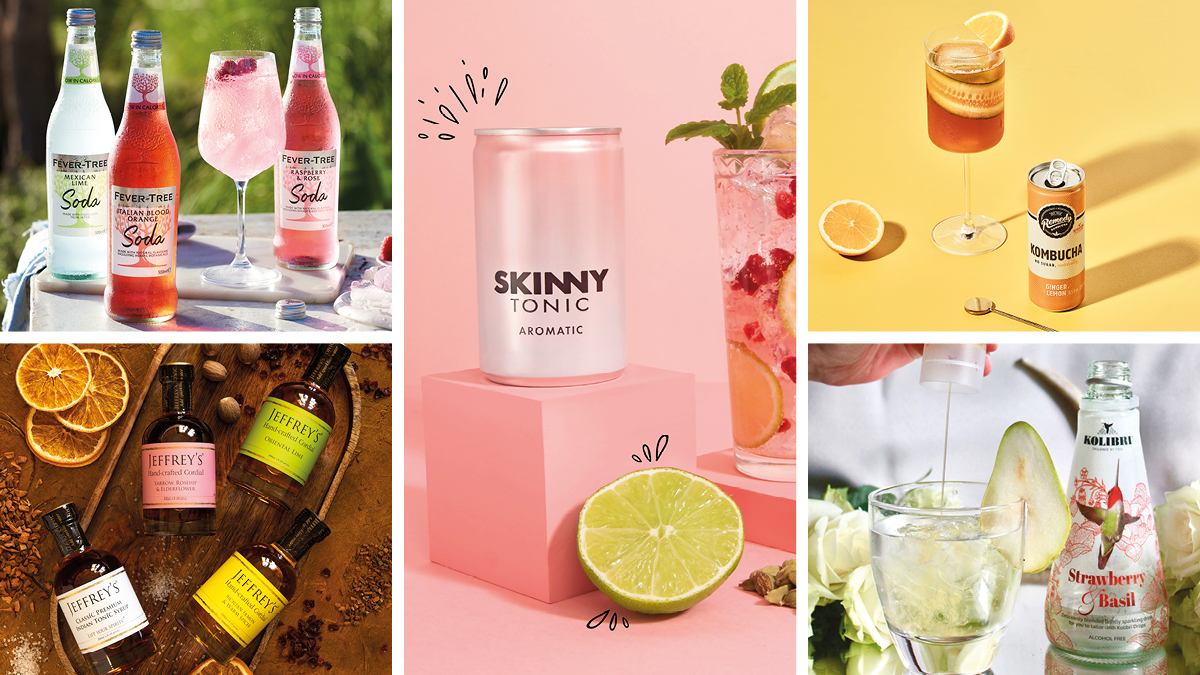 ---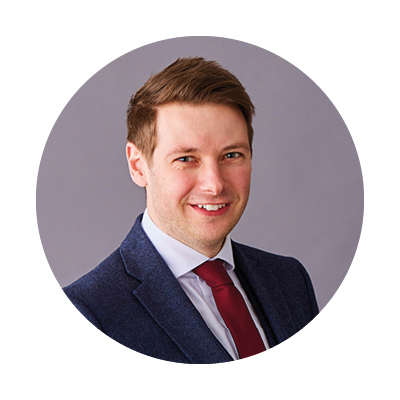 Our Buyer Andy McDermott has recently reviewed, refined and revamped our range of soft drinks in store. With a growing thirst for craft soft drinks, alcohol-free alternatives and healthier drinks, it was time for a change to represent this within our in store range. As is our ethos at Booths, championing new, unique, innovative, authentic and often local and Independent brands has been key. Here are Andy's top ten additions to the new range.
---
Skinny Tonics

Co-founded by Ian Minton and Steve Wilkinson, Skinny Tonic's mission was simple; create the creme-de-la-creme of tonic waters that wouldn't cause a blood sugar spike. Being a type 1 diabetic, Ian struggled to find a tonic water without either hidden sugar or artificial sweetener, so with that Skinny Tonic was born!
Skinny Tonics contain zero sugars, zero artificial ingredients and zero calories. Led by science, the tonics have been formulated with the help of taste specialists, Synergy Flavours, who are renowned for their state-of-the-art pairing technology and expert taste profilers to come up with the perfect matches to the most popular gins on the market. Skinny Tonic's range is made using the finest natural ingredients including natural plant extract, stevia and spring water from Staffordshire to create a premium-tasting blend of tonics.
Going above and beyond to ensure their manufacturing process is of the highest value, Skinny Tonic has its own bespoke production plant which is committed being plastic-free. The full range is produced using aluminium cans which are indefinitely recyclable and will go from the recycling bin to store shelves within 60 days, with a much smaller carbon footprint than glass or plastic.
With the perfect balance of fragrance and fizz, Skinny Tonic's selection works well with a wide variety of different spirits including non-alcoholic ones.
You'll find four flavours in store: 
Skinny Tonic Indian, 8x150ml £3.80
Skinny Tonic Mediterranean, 8x150ml £3.80
Skinny British Raspberry, 8x150ml £3.80
Skinny Aromatic Tonic, 8x150ml £3.80
---
Remedy Drinks

Remedy drinks are headed up by husband and wife team Sarah and Emmet Condon. They'd been making their own kombucha brew for friends and family, which was so popular that they decided to take it big. While they've moved on from the kitchen bench, Remedy is still made the old-school way: in small batches, long-aged brewed for 30 days.
The result is a tasty drink with sweet and sour flavours that contains healthy, living cultures (aka good bacteria) and organic acids that are good for your gut and overall wellbeing.
In a nutshell, kombucha (pronounced: kom-boo-cha) is fermented tea. The traditional method of making kombucha – which we follow at Remedy – involves a natural fermentation of sweet tea, wild healthy bacteria and yeasts. What makes us different if that our process brews the sugar out, leaving us with a raw, live sparkling drink containing no sugar naturally (and only 7 calories a serving!).
Available in store:
Remedy Kombucha Raspberry Lemonade, 4x250ml £5
Remedy Kombucha Ginger & Lemon, 4x250ml £5
Remedy Kombucha Apple Crisp, 750ml £3.95
Remedy Kombucha Ginger & Lemon, 750ml £3.95
Remedy Switchel Blood Orange, 250ml £1.85
Remedy Coconut Water Kefir, 250ml £1.85
---
Nix and Kix

Nix and Kix started because founders Julia and Kerstin realised there weren't any grown-up soft drinks around. They thought it was high time there were more – and better – choices to make.
Nix and Kix produce natural, innovative beverages with a hint of cayenne. This botanical addition gives the drinks a sophisticated twist and also means there is no added sugar needed to achieve great taste. The range is 100% natural, vegan and low in calories. Perfect on their own, or as a mixer.
Cocktail Ideas: 
Blood Orange Fizz
50ml Aperol
Top up with equal parts of Prosecco and Nix and Kix Blood Orange & Turmeric
Lightly stirred in a large wine glass with plenty of ice
Garnished with a grapefruit slice
Kix Cup 
15ml Gin
40ml Pimm's
Top up 150ml with Nix and Kix Cucumber & Mint
Fill up a glass of your choice with mint, orange, lemon slices and ice
Garnish with cucumber ribbon
Available in store:
Nix and Kix Mango & Ginger, 750ml £2.85
Nix and Kix Blood Orange & Turmeric, 750ml £2.85
Nix and Kix Cucumber & Mint, 750ml £2.85
---
Jeffrey's Hand-Crafted Cordials and Premium Indian Tonic Syrup

Jeffrey's make truly delicious drinks that are unlike anything you've experienced before; an exceptional Classic Premium Indian tonic syrup and a range of hand-crafted cordials. They are all specifically designed to be mixed at home, tailored to your own taste. Simply dilute with sparkling or soda water to create sophisticated soft drinks that can be enjoyed with or without alcohol.
Handmade in Chester, Jeffrey's use only an infusion of authentic herbs and spices (as opposed to extracts and flavourings) with organic Sicilian lemon juice or organic lime, depending on the recipe. They are perfect as a sophisticated and flavourful soft drink, or as a special tonic to accompany your favourite spirits.
We're pleased to be the only major supermarket to stock Jeffrey's. Flavours you can find:
Jeffrey's Hand-Crafted Cordial Sicilian Lemon & Warm Spices, 200ml £6.95
Jeffrey's Hand-Crafted Cordial Yarrow, Rosehip & Elderflower, 200ml £6.95
Jeffrey's Hand-Crafted Cordial Oriental Lime, 200ml £6.95
Jeffrey's Classic Premium Indian Tonic Syrup, 200ml £6.95
---
Kolibri®

Kolibri unveiled its first non-alcoholic range, Kolibri Botanical Infusions in summer 2018 and became the UK's most awarded drink innovation of 2019. Those lightly sparkling cocktail-like creations come under 50Kcal per bottle and offer customisable flavours. Brand new for 2020, Kolibri Drinks has launched the high street's first CBD-infused alcohol-free cocktail range, available to purchase from Booths stores and online. Kolibri CBD Cocktails are exquisite-tasting adult drinks which come with 20mg CBD Supreme to help you relax and unwind in those challenging times. Promising to deliver on not only delicious flavours and health benefits, but a one-of-a-kind drinking experience too, Kolibri Drinks feature a unique cap which puts you in control of your drinks' flavour and CBD dosage.
Serving suggestions:
Sparkling Botanical Infusions: Simply serve in a gin balloon over ice. Garnish with a twig of fresh mint and zesty lime. Transform your drink's taste from bone-dry to luxuriously sweet or anywhere in-between with golden agave from the cap.
Kolibri CBD Cocktails: Serve at room temperature or chilled with an orange twist or a twig of rosemary. Add supreme CBD drops from the cap, as much or as little as you need. Now relax, sip and savour.
Available at Booths:
Elderflower & Lime Botanical Infusions, 315ml £3.75
Strawberry & Basil Botanical Infusions, 315ml £3.75
Cardamom & Chilli Botanical Infusions, 315ml £3.75
Citrus Grove CBD Cocktail (non-alcoholic), 315ml £5.75
Dark Forest CBD Cocktails (non-alcoholic), 315ml £5.75
---
Belvoir Fruit Farms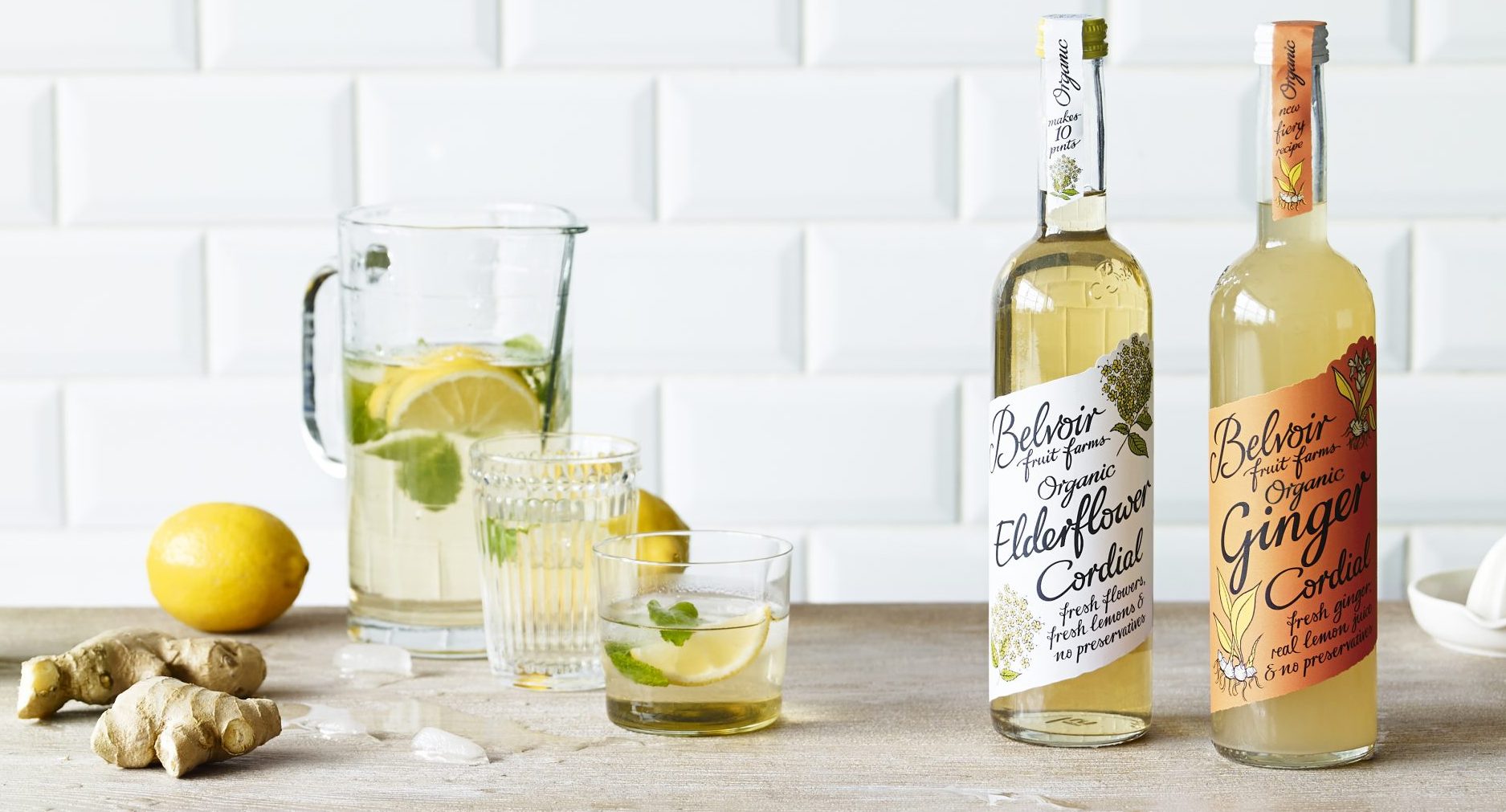 For 35 years, Belvoir Fruit Farms have been making delicious, premium Cordials and refreshing, sparkling Pressés from natural fruit juices and high-quality ingredients in the heart of the Leicestershire countryside.
All the drinks are made by infusing and blending hand-picked flowers, real fruits and spices. No artificial sweeteners, preservatives or flavourings are used. A long-standing favourite brand at Booths, Andy has added some exciting new products to the range:
Belvoir Light Raspberry Lemonade, 750ml £2.70
Organic Elderflower Pressé, 750ml £3.50
Organic Ginger Cordial, 500ml £4.10
Organic Lemon & Mint Cordial, 500ml £4.10
---
Marlish Flavoured Spring Waters

Marlish Spring Waters are produced on family-run working farm in Northumberland. Tapping into a historic underground aquifer on the farm gave Elizabeth and her cousin Joe the bright idea of producing high-quality spring water to sell and changed the course of their rural farm forever. The aquifer is a completely sustainable resource which is naturally replenished by rainwater falling on the Northumbrian hills. It takes hundreds of years to naturally filter through the rock strata, gaining its high level of purity and mineralisation along the way. Marlish built a factory on the farm so that all of their products could be packaged at source to reduce their footprint on the environment and to preserve the purity of the water.
Marlish flavoured Spring water is low calorie and free of sugar and saccharin, promising a natural and light beverage without compromise on taste. We currently stock two great tasting vegan friendly flavours:
Sparkling Siciallian Lemon, 330ml £1.20
Sparkling Raspberry, 330ml £1.20
---
Fever Tree Sodas

Founded by Charles and Tim in 2003, Fever-Tree spotted a gap in the market for high quality mixers, designed to complement high quality spirits perfectly. Another long-standing favourite brand at Booths, we're excited to welcome something new from them: Fever Tree Sodas. Delicious and low in calories, the new range of flavoured Sodas are made using only the finest quality naturally sourced ingredients, each one crafted to simply mix with the finest spirits for a refreshing, low calorie spritz.
Flavours available:

Raspberry & Rose Soda, 500ml £1.80
Sweet raspberries are perfectly blended with the delicate notes of handpicked rose petals.

Mexican Lime Soda, 500ml £1.80
Zesty Mexican limes are perfectly blended with the floral and citrus notes of Japanese Yuzu.

Italian Blood Orange Soda, 500ml £1.80
Sweet and juicy Italian blood oranges are perfectly balanced with a unique blend of herbal botanicals.
---
Nexba

Nexba's story began as a young Australian's quest to create a natural, healthy drink that tastes just as good as sugary, artificial ones. After a lot of hard work, they succeeded. An Australian brand founded by best mates Drew and Troy, who turned that seed of an idea into what's now an award-winning business. They've even globally protected their own all natural sweetener – Nexba's "Good Sweet" Blend. Their kombucha and kefir drinks are Naturally Sugar Free, free from anything artificial, and contain Nexba's unique strain of 500 million cultures, built to survive the journey from your mouth to your gut. Cheers to that!
You'll find four of of their great tasting products in store:
Kombucha Live Sparkling Probiotic Mixed Berry, 4x330ml £4.50
Kombucha Live Sparkling Probiotic Elderflower & Lemon, 1ltr £3
Kombucha Live Sparkling Probiotic Strawberry & Peach, 1ltr £3
Kefir Live Sparkling Probiotic Strawberry & Beach, 4x330ml £4.50
---
Mawsons's Cordials
The story of Mawson's Sarsaparilla begins in 1933, when milkman Joe Mawson came to Oldham and bought a herbalist's shop. The back room of Joe's with its piano, card tables and home-brewed beer became a popular meeting place for local people, until its closure in 1963.
This was also the year in which Nigel, the fourth of young Joe's five children, was born. Growing up in the shop, Nigel was constantly reminded of the days in which drinks had been served in the back room and even thirty years later customers would ask for a glass of sarsaparilla or even enquire whether anyone still made it.
This continued interest prompted Mawson's to bring back the herb beer and sarsaparilla to commemorate their 65th anniversary in 1998. This was no easy task – all that remained of the old system was a clutch of Joe's hand-written recipes for the herb beer and no recipe for the sarsaparilla. It took many months before they managed to reproduce the sarsaparilla in a cordial form, made to the original recipe but in a modern, clinical environment. The herb beer was brewed by a microbrewery and for two weeks in August 1998 they gave samples to many old and new customers in their Oldham shop.
Over the years, the range has increased to include the retro classic flavours they're known for which have won a number of Great Taste Awards over the past two years. We're please to be the only major supermarket to now stock a selection of their delicious cordials:
Mawson's Cream Soda Cordial, 500ml £3.85
Mawson's Ginger Cordial, 500ml £3.85
Mawson's Sarsparilla Cordial, 500ml £3.85
---
To read about Andy's life as a buyer, click here.
All products and pricing correct at time of publication, subject to change. Products may be in selected stores only, check before travelling.