Almond Christmas Biscuits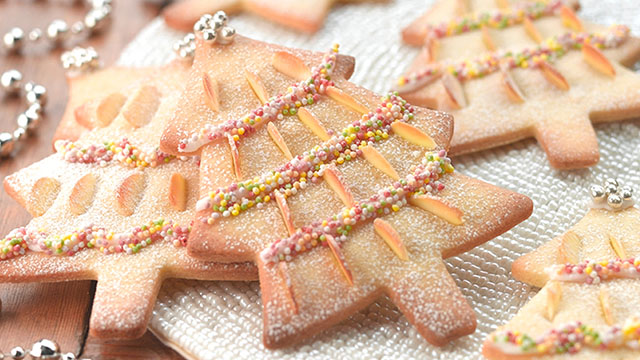 7 servings
40 minutes to prepare
Ingredients
For the biscuits
100g flaked almonds
110g Booths butter, softened
110g Booths caster sugar
1 large egg, beaten with 2tsps water
1tsp vanilla extract
275g Booths plain flour
baking powder
¼tsp
Pinch of salt
To decorate:
Ready-made icing
Silver balls, jellied oranges and lemons and hundreds & thousands.
Instructions
Cream the butter and sugar until pale, soft and creamy then beat the egg and water with the vanilla extract and mix with the butter and sugar. Sift in the flour, baking powder and salt, and, with a wooden spoon, work into the butter until you have a soft dough
Wrap the dough in cling film and chill for 30 minutes
Pre-heat the oven to 180ºC / gas mark 4.
Roll out the dough on a lightly floured surface to about 5mm thick then cut out your tree shape and place onto a lightly greased baking tray, re-roll the dough to cut out further shapes.
Press the flaked almonds into the dough in rows, but don't worry about them being too uniform. Bake for 10 minutes until pale golden in colour and cool for one minute before transferring to a wire rack to cool completely.
Decorate with icing and hundreds & thousands, silver balls and jellied oranges and lemons.