Amaretto Christmas Pudding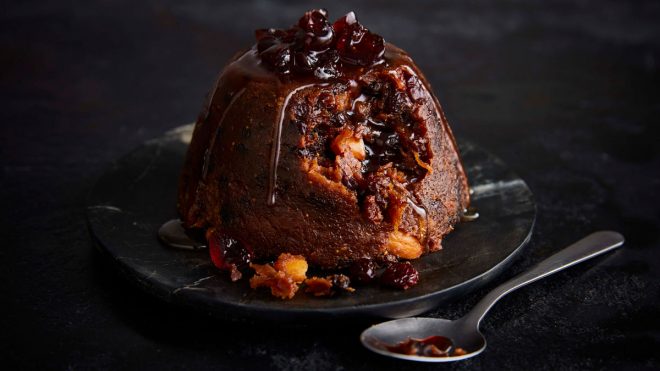 8 servings
3.5 hours to steam, 24hrs to soak fruit, 10 minutes to prepare
Ingredients
The Dried Fruit Mix
250g currants
250g sultanas
100g dried figs, chopped
100g glacé cherries, halved
100g mixed peel
125ml amaretto, plus extra to feed
For the Pudding Mix
150g suet
125g demerara sugar
75g breadcrumbs
1 apple, peeled, cored and roughly grated
4 eggs, beaten
130g plain flour
1/2tsp baking powder
1tsp mixed spice
Pinch salt
50g ground almonds
1 lemon, grated zest
50g blanched almonds, roughly chopped
25g crystallised ginger, roughly chopped
For the Sweet Amaretto Syrup
250ml water
150g caster sugar
75ml Amaretto
Instructions
A delightful twist on an otherwise traditional recipe for your stir-up Sunday Christmas pudding.
24 hours in advance: add all of the dried fruit to a bowl and pour over the amaretto. Tighlty cover and leave to steep for at least 24hrs, or up to 1 week.
Take a pan large enough to fit your pudding bowl into it and fill with water, ¾ of the way up the side of the pudding bowl. Remove the pudding bowl, lightly grease and set aside. Bring the water to the boil, cover with a lid and simmer until needed.
Pop all of the ingredients excluding the steeped fruit and liquor into a mixing bowl and combine well – give it a good stir, they don't call it stir up Sunday for nothing!
Add this mixture into the dried fruit and liquor mixture, then stir thoroughly.
Once combined, fill the greased pudding dish, packing the mixture in tightly. Cover with a layer of greaseproof paper followed by a layer of foil, adding a pleat into the middle of each to allow the pudding to expand as it cooks. Secure this layer by tying string around the top of bowl to hold them in place.
Place the pudding bowl into the simmering pan, ensuring the water doesn't come higher than ¾ the way up the bowl, to avoid any getting into the pud. Cover and cook for 3.5 hours making sure you top up the water level regularly to avoid it boiling dry.
Remove the pudding basin carefully as it will be very hot, and leave to cool. Remove from the bowl, and pop into an airtight container and store in a cool, dry place until Christmas Day.
On Christmas Day, re steam for 2 hours in the same way as above, and serve with sweet amaretto syrup.
For the syrup, add the water and sugar to a saucepan, bring to the boil and simmer until thickened, add the amaretto and pour over the hot pudding.
Chefs tip
You can use a bag of mixed dried fruit if you don't want to buy each of them separately, you'll need 800g.
Make a string handle over the basin so you can easily remove the pudding once cooked.