Banana and Blueberry Traybake Pancake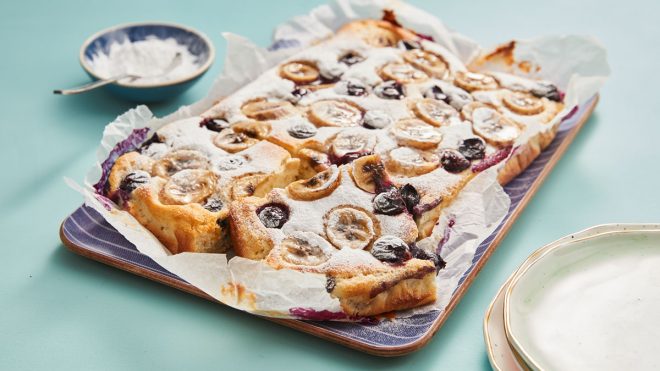 6 servings
35 minutes to prepare
Ingredients
220g self raising flour
150g caster sugar
2tsp baking powder
350ml milk
1tsp vanilla extract
4 egg whites
2 bananas, sliced
100g blueberries
Dusting of icing sugar
Instructions
A delicious breakfast dish for the whole family, this baked pancake traybake is so easy to make.
Method
Pre-heat the oven to 180°C (fan)/400°F/gas mark 6. Line a 20x30cm deep baking dish with baking paper.
Place the flour, sugar and baking powder into a mixing bowl. Whisk to combine.
Place the milk and vanilla extract into a measuring jug. Make a well in the center of the dry mix and slowly add the milk mix, whisking all of the time to avoid lumps.
Place the egg whites into a mixing bowl and whisk to stiff peaks. 6. Carefully fold the whisked egg whites into the pancake mix.
Pour the mix into the prepared tin and top with sliced banana and blueberries.
Bake in a pre-heated oven for 20-25 minutes or until golden brown and cooked through.
Allow to cool slightly before dusting with icing sugar and cutting into squares to serve.
Chefs Tip
Swap the fruit in this pancake for a seasonal twist. Try raspberry and a handful of white chocolate or add 2 tbsp. of cocoa powder to the mix and serve with orange segments.