Banana Rum Sundae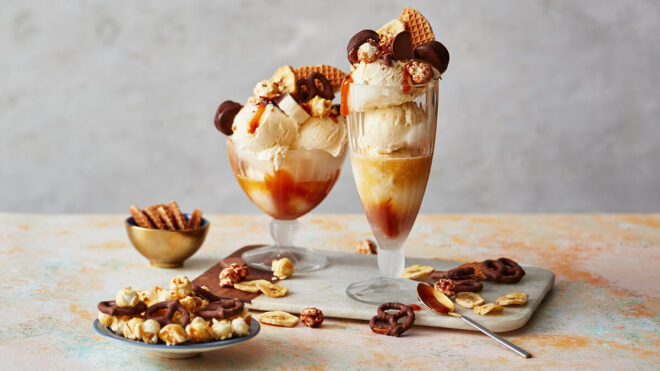 4 servings
10 minutes to prepare
Ingredients
1 Tub Booths Vanilla Ice Cream
200ml Two Swallows Banana Rum
40g Dried Banana Chips
80g Chocolate Pretzels
Handful Of Popcorn
Drizzle Of Caramel Sauce
2 Large Wafers
Chocolate Coated Bananas
Instructions
Method:
Take a sundae glass or bowl and drizzle a little salted caramel sauce down the sides and at the bottom.
Place 2-3 scoops of vanilla ice cream into each glass.
Drizzle a little more sauce over the ice cream.
Add any toppings you wish. We used chocolate coated banana, chocolate pretzels, popcorn, dried banana chips and a wafer snapped in half.
Finally, pour 50ml of banana rum into each glass and serve.
Chefs Tip:
To make the chocolate coated banana simply melt some chocolate and dip the slices of banana in and freeze for a few minutes.