Caramelised Christmas Pudding Ice Cream Sandwiches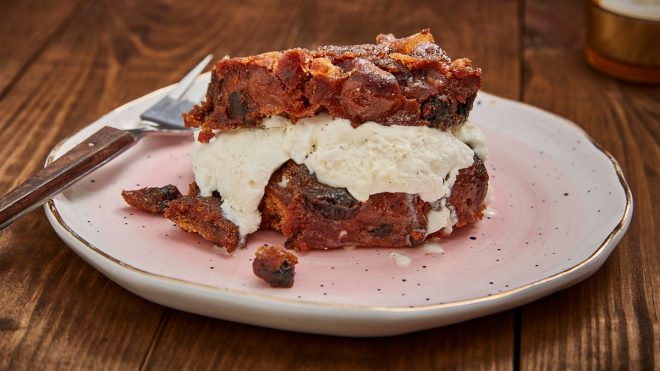 4 servings
10 minutes to prepare
Ingredients
50g brown sugar
50g unsalted butter
8 slices of leftover CHristmas cake or puddi
4 scoops vanilla ice cream
Maple syrup to serve
Instructions
This is an excellent way to use up any leftover Christmas cake or pudding, and if you're feeling fancy you could use a cutter to create shaped sandwiches.
Slice the leftover Christmas cake or pudding into your 'bread' for the sandwiches.
Add the butter and brown sugar to a non-stick frying pan on a medium heat, once they've melted together, add the cake slices and fry for a minute or so on either side.
Remove from the pan and scoop ice cream onto one slice and top with the other slice, drizzle with maple syrup and serve.
Chefs tip
Scoop the ice cream into balls beforehand and place back into the freezer. When ready just simply remove the ice cream, pop on the sandwiches and serve.