Mango and Passionfruit Cream Horns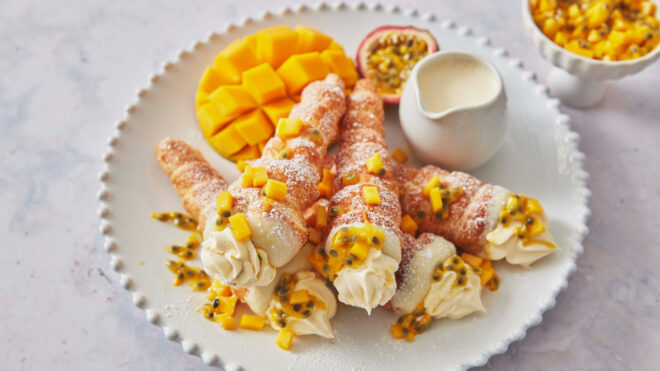 6 servings
30 minutes to prepare
Ingredients
1 pack puff pastry sheets
25g melted butter
50g granulated sugar
1 beaten egg
50g melted white chocolate
1 ripe mango
2 passion fruit
600ml double cream
1tsp vanilla essence
You'll need ice cream moulds or make you own with tin foil
Instructions
Method:
1. Preheat the oven to 200°C / 180° Fan / 400°F / Gas Mark 6.
2. Unfold your pastry and cut into 1cm thick slices.
3. Lightly brush your cream horn moulds with melted butter and wrap the pastry around the horn starting at the point until it totally covers the tin horn. If you don't have a tin mould you can cre-ate one out on tin foil.
4. Brush each horn with egg and sprinkle with the sugar.
5. Place the horns onto a non-stick oven tray and bake in the oven for 15 minutes until golden brown.
6. Cool down on a wire rack and once they are cool enough to handle, carefully remove from the moulds.
7. Brush the inside of the horns with melted white chocolate and allow to set.
8. Dice half of the mango and mix with the seeds of one passion fruit.
9. Thinly slice the other half of the mango and keep to one side for garnish.
10. Whip the cream with the vanilla until it forms soft peaks and then fold in the remaining passion fruit seeds.
11. Place a spoonful of mango and passion fruit mix into the bottom of each pastry horn then pipe in the passion
fruit cream.
12. Garnish with the sliced mango and serve.
Chef's Tip:
These pastry horns are great for ice cream. Fill each horn with melted chocolate and then tip out the excess to create a thin chocolate layer, once set fill with your favourite ice cream.